The cost of NOT recycling?
| | |
| --- | --- |
| | |
What does the landfill tax mean for Kensington and Chelsea? What is the Council doing to lessen the impact of the tax? Read on to find out more about the recycling challenge ahead and the range of initiatives underway.
Figures in 1997/98 showed that the UK sent 85 per cent of its municipal waste to landfill sites.
In 1999 the European Union Directive on Landfill set out progressive targets for the reduction of the amount of waste sent to landfill. The Directive required the Government to set up a national strategy to meet these targets.
As a result, the Government's Waste Strategy 2000 set local authorities challenging targets to increase the recycling and composting of household waste that include:
Increasing the amount of household waste recycled and composted in the Royal Borough to 25 per cent by 2005/06
Across the UK as a whole 33 per cent of all waste to be recycled or composted by 2015
This is a mighty test of the UK's commitment to recycling. The local response in Kensington and Chelsea must be to focus on recycling, thus offsetting the impact of the landfill tax. Otherwise Council Tax bills look set to rise and the search for alternative waste management sites could end up much closer to home.

top of page
The Royal Borough has a similar profile to the other inner-London boroughs when it comes to recycling. Rates have increased steadily over recent years and we currently recycle nine per cent.
The Environment Agency's own research shows that nine out of ten people in England and Wales would recycle more if it was made easier and this is shaping the Council's response. In fact the recycling schemes currently employed by the Council have been developed by looking at best practice and adapting those ideas to local needs. The current range of initiatives in place aim to encourage more recycling through better communication, making recycling easier, and encouraging residents to re-use and reduce waste wherever possible.
In summary the schemes recently launched are listed below.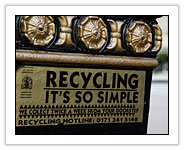 Recycling Wardens can now be found out on the streets of Kensington and Chelsea. Likened to the 'putting Bobbies back on the beat' approach adopted by the Police, the key aims of the scheme are to tell residents about the benefits of recycling; promote existing recycling schemes amongst residents and better educate refuse collection crews about the materials that can and cannot be recycled.
Raising awareness is essential if recycling rates are to improve in the Borough. And with the Council's commitment to Best Value, there are challenging targets for success in place. Just a couple of months since its launch and 6,172 people have been visited by the Wardens; 3,847 people are already recycling; and 1,394 residents have promised to recycle in future
This bodes well for increasing participation and we will report back on progress with this initiative in future issues of RBKC Direct.

top of page
The future - for recycling at least - would appear to be orange, with the introduction of new recycling bags earlier this month. Bin bags, in bright orange, complement the other collection methods already in place. These bags will create a more visible brand for recycling, and also make it easier for waste collectors to identify rubbish.
The Council has devised another imaginative scheme aimed at residents of high rise estates. The scheme is to be tested at Lancaster West Estate, where the Council is providing green boxes to 1,000 households, with door-to-door collections soon to start.
The target is for a participation rate of 70 per cent. If this scheme proves a success it could pave the way for areas where barriers to recycling are currently high and residents have traditionally struggled to recycle their waste.
Green garden waste is being collected from participating streets and taken to a centralised composting plant in Rainham, Essex. Here it is turned into a soil-improving compost.
To date around 30 per cent of the households eligible for the scheme have used it. The scheme has also just been extended to cover a further 1000 homes, expanding the trial to 4,500 households. With free sacks being distributed the Council is urging residents in the trial area to ensure that all the garden waste they produce is placed in special green compost trial bags.
If you have a view on recycling, email us on recycling.comments@rbkc.gov.uk. Your feedback is invaluable to us.
See also Refuse and Recycling.