Greener Business
The Council is committed to helping businesses reduce their environmental footprint and act as sustainably as possible. Over the past few years the Royal Borough of Kensington and Chelsea have been supporting small and medium sized businesses go green and save money. To find out more information and enquire about how we can help you, email us at environment@rbkc.gov.uk.
Case study: Kai Catering
Background
Kai Catering Ltd is a local business, based in the north of the borough, providing catering and events services. They took part in the Council's 'Greening Business Programme' – a scheme part funded by the European Regional Development Fund and also run in the London Boroughs of Merton, Wandsworth, Richmond and Barking & Dagenham – and worked with an adviser to implement simple energy saving improvements.
What was achieved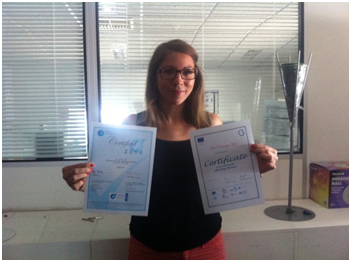 As part of the support delivered a bespoke carbon footprint report was developed for the business. The following measures were suggested:
Upgrade to energy efficient lighting (T5 fluorescent system)
Reduce waste and improve recycling rate (particularly office paper) by educating staff
Installation of water saving flush devices
Based on implementing the advisers suggestions, Kai Catering are estimated to have reduced their annual emissions by 235kg CO2. In addition the company now has increased knowledge on sustainable working practices which has helped them take a proactive approach.
Post 'Greening Business'
"Be a Green Kiwi" has been adopted internally as a company slogan ('Kai' means 'food' in Maori and the businesses owners are originally from New Zealand). The slogan is aimed at encouraging all staff to act as sustainably as possible.
Council's Support
Commercial Waste: the Council can cater for all of your waste needs
Business continuity advice: advice on how to deal with any event that could stop your business from working and get you back up and at full capacity as quickly as possible.
Useful websites