Motherhood by The Lots Road Group
Thursday 20 to Sunday 30 March 2014 (Mother's Day)
Motherhood is a celebration of mothers - in many of their forms - by The Lots Road Group of figurative artists.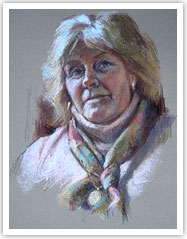 Mother - Katherine Firth
The Lots Road Group met while studying portraiture at The Heatherley School of Fine Art in Chelsea.  Formed in 2013, it comprises 16 figurative artists who work in varied styles and differing media – oils, pastels and print.  The independent group was established to facilitate camaraderie and provide a platform for exhibiting and maintaining professional networks.  In 2014 they have come together to create this tribute to motherhood.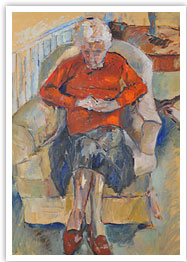 Susan asleep  (mother-in-law) - Lucinda Rendall
Some of the earliest gifts we give our mothers are pictures we draw of them.  And their faces remain a source of fascination for many artists.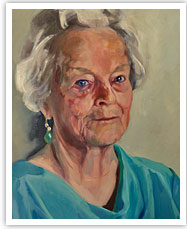 Mother-in-law – Sarah Richardson
Perhaps we enjoy seeking a resemblance in those of whom we were once a part?  Or perhaps we just enjoy the opportunity a sitting provides to chat to them, whether our mothers, mothers-in-law, grandmothers or Godmothers (fairy or otherwise!)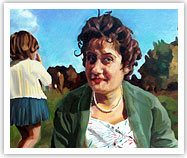 Mum and me - Stella Tooth
The exhibition runs until Mother's Day and is accompanied by a book of the portraits on show. 
---
Exhibition is open for public view on:
Mondays, Tuesdays and Thursdays, 9.30am to 8pm
Wednesdays, Fridays and Saturdays, 9.30am to 5pm
Wednesday 19 March, private view, by invitation only, 5pm to 8pm, (light refreshments available). 
Sundays, 1pm to 5pm
Details
Chelsea Library, Old Town Hall
Kings Road,
London SW3 5EZ