Ohrid Exhibition
Monday 21 May to Monday 28 may 2012
by Pro Art and Co and London Mag Culture
Ohrid is one of the most beautiful towns in Macedonia, settled by the Ohrid Lake. It boasts with rich cultural history and unique natural world.
Bronze Settlement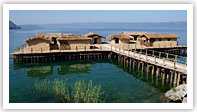 Church of St Kaneo
Inhabited in early times, the town once had 365 churches - one for each day in the year - a large number of them are still preserved. Within them, they protect an immeasurable treasure of frescoes, icons, woodcarving and other sacred objects.
Every summer Ohrid hosts the internationally renowned Ohrid Summer Festival and other important cultural events. Many artists, from around the world, have chosen Ohrid as their open-air atelier and regard the town and its surroundings as an endless inspiration.
Ohrid Old Town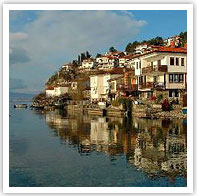 View on Ohrid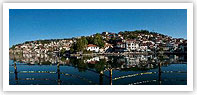 It was also a place where St Clement, a student of the famous Byzantine brothers Saints Cyril and Methodius, revised their Glagolitic Alphabet and simplified letters thus created a new Cyrillic Alphabet, which most of the Eastern European Slavs use even today. Ohrid is the soul of Macedonia and the UNESCO's World Heritage site.
Exhibition is open for public view on:
Monday, Tuesday and Thursday, 9.30am to 8pm
Wednesday, Friday and Saturday  9.30am to 5pm
Sunday 1pm to 5pm
Details:
Chelsea Library, Old Town Hall
Kings Road,
London SW3 5EZ