The Community Safety Team is a Council team that was established to keep residents, visitors and businesses in the borough safe.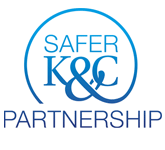 Our role is to support the Safer K&C Partnership in addressing issues of concern in the borough. The Council, police and partners in the Safer K&C Partnership work together to reduce crime, antisocial behaviour and increase feelings of safety among residents, businesses and visitors.
Community Safety Fair Processing Notice
Within The Safer K&C Partnership, the Council and our partner organisations will share relevant personal information with each other. This is so they can work together in a joined up way to reduce crime and anti social behaviour as required by the Crime and Disorder Act 1998.
The purpose of sharing information includes:
Reducing and preventing crime and disorder
Safeguarding people who may be at risk of harm
Bringing offenders to justice
Increasing community safety
This information will be used in accordance with the Data Protection Act 1998 and other relevant legislation. Information will be held securely and will only be used and shared on a strict need to know basis with limited partners in the borough for the purpose of preventing crime and disorder.
Personal information will be deleted when it is no longer needed for its intended purpose, in line with the organisations data retention policies.
Appropriate measures are in place to prevent the unauthorised use of information. You have a right to request access to personal information held about you under the Data Protection Act.  To make a 'Subject Access' request, see the Data protection page
Contact the Community Safety Team
Community Safety Team, Kensington Town Hall, Hornton Street, London, W8 7NX Telephone: 020 7361 3000 , email: commsafe@rbkc.gov.uk