The Coat of Arms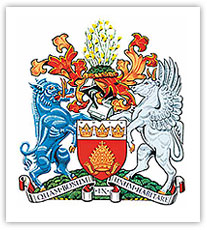 History of the Royal Borough
The royal borough title was granted to Kensington Council by Royal Charter on 20 November 1901. Queen Victoria awarded the title in recognition of her birthplace. Letters patent conferred the use of this royal title on 7 April 1964.
Kensington and Chelsea Council received its Charter of Incorporation as a London borough on 10 March 1964. Before this Kensington and Chelsea were separate metropolitan boroughs dating back to 1 January 1900.
Coat of arms design
The College of Arms granted the Council's coat of arms on 10 December 1965.
The shield comprises:
three Crowns on ermine symbolising the royal status of the borough
an Abbot's Mitre signifying links between Kensington and the Abbey of Abingdon, and Chelsea with the Abbey of Westminster. These connections date back centuries
The crest consists of a broom bush. This represents the link between the two former boroughs of Kensington's 'Brompton' ward. This area is part of the Chelsea constituency. In medieval times Brompton was famous for its gorse fields. The name was a corruption of 'broom tun', a gorse farm.
The supporters are a blue boar and a silver winged bull:
The boar is taken from the Arms of the De Vere family, Lords of the Manor of Kensington for 500 years.
The winged bull is associated with St Luke, the patron saint of the ancient Parish of Chelsea.
The motto 'Quam Bonum In Unum Habitare' is the 133rd Psalm in Latin – 'What a good thing it is to dwell together in unity'.
Last updated: 13 July 2020