If London is to be seen as an international leader in learning, those who teach in London must be seen as among the best in their profession. Our aim is to provide continuing support to all staff that work in schools and ensure that within the Royal Borough we provide the highest possible standards of Continuing Professional Development.
CPD has a key role to play in raising standards by improving the teaching and learning that takes place in our schools; it supports the development of the curriculum and provides for appropriate personal development and career progression for all our staff. In the Royal Borough of Kensington and Chelsea we aim to be in a position where the professional development that we offer to all staff in schools is creative, innovative and flexible.
Raising standards is of course our core aim, but raising standards through a broad and rich curriculum, through innovative and inspirational teaching, flexible approaches to learning and creative and distributed leadership at all levels. The Royal Borough aspires to be a leader and driving force for development and innovation in CPD.
Our professional development centre provides a huge range of courses – from 'solution focused approaches to conflict management' to 'pod-casting'. It is also a base for a number of professionals who provide support for school based professional development. Our schools work within this culture of valuing professional development and support for you will be first class.
The Centre houses key education support services, including the School Improvement Service, Education Welfare, Schools Educational Psychology Service. The City Learning Centre provides outstanding local ICT facilities, training courses and pupil programmes. There is also a refreshment area where you can get together and exchange ideas with colleagues.
Experienced teachers wishing to become leaders and managers in our schools will have every opportunity to participate in national programmes organised through the National College for School Leadership and underpinned by opportunities within Kensington and Chelsea.
---
What is Continuing Professional Development (CPD)?
"Continuing professional development (CPD) consists of reflective activity designed to improve an individual's attributes, knowledge, understanding and skills. It supports individual needs and improves professional practice." (TDA)
In short, CPD involves thinking about what you are doing, learning about how to improve and putting your learning into practice. CPD is NOT just about going on a course.
CPD can be:
observing colleagues at work/teaching
engaging in peer review
working with a mentor/coach
reading academic, professional books, journals
action research/enquiry based development
attending a course/conference
joining a network or forum
and so on………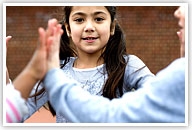 The most effective CPD is planned carefully with a clear idea of the reasons behind the development activities and the difference you wish the learning and development to make (that is, you plan for impact at the outset).
The best CPD truly engages and empowers the individual and arises out of their role and context. Many schools have developed "coaches" who build the capacity for individuals to become better "reflective practitioners".
(TDA)
Characteristics of effective professional development
A 2003 study by Evidence for Policy and Practice Information (EPPI at the Institute of Education) listed the following key characteristics of effective professional development:
direct relationship with the classroom/school
uses external expertise lined to school based activity
involves observation and feedback
includes peer support
participants identify focus of development
enables staff to be reflective
opportunity to work with colleagues and share practice
opportunities to receive regular, structured feedback
process over a period of time to embed learning into classroom practice
opportunities for independent self study