Sing to Live, Live to Sing
COVID-19 update on Sing to Live activity
Kensington and Chelsea Council is working closely with Public Health England in monitoring the Coronavirus (COVID-19) situation carefully in relation to our residents, staff, contractors and tourists. The safety of our staff, residents, workers and tourists remains our utmost priority.
In light of the increasing number of cases confirmed across London, we have taken the decision to cancel with immediate effect all remaining Sing To Live workshops and the planned performances, due to take place at the end of the month and into early April 2020.
While this will come as a disappointment, our greatest concern is the health and wellbeing of everyone accessing Sing to Live groups, particularly those aged 60 and over, or with underlying health conditions, who are at greater risk from COVID-19. This decision is reflected by a number of similar 'Singing for Health' groups across London, who are all focussing efforts on slowing the risk of spreading the virus.
You can find information about protecting yourself and others from COVID-19 on the Coronavirus page.
The information provided will be updated in line with further developments and advice from the Government and the NHS.
Resources to support singing groups and singers  
About the Sing to Live, Live to Sing programme
Sing to Live, Live to Sing is a singing for health programme in Kensington and Chelsea. It was initiated by the Council's Arts Service in partnership with Public Health, and made possible by the support of the host venues who provided their space in kind for Sing to Live, Live to Sing groups.
Singing can help to:
improve breathing
relieve stress
develop core muscles
improve posture
boost confidence
encourage a feeling of belonging
improve mood
The Sing to Live programme is no longer delivered by the Council's Arts Service. We are currently working with three Community Centres to deliver and integrate groups with their core activity. These are:
Dalgarno Community Centre
Contact to register interest for Dalgarno Sings: VIP Project Co-ordinator Rosana Ordoubadi: Rosana@dalgarnotrust.org.uk
General Enquiries:
tel: 020 8969 6300
address: 1 Webb Close, Dalgarno Way, London W10 5QB (wheelchair accessible)
Venture Community Association
General Enquiries:
Chelsea Theatre
Virtual Community Choir 
Meeting via Zoom, the Community Choir is free and open to all, with no experience required. 
Full details, including how to sign up to Zoom website for free.
Contact Matt Uberoi, Community Champions Programme manager: 
T: 020 7352 1967 
address: Chelsea Theatre, 7 World's End Place, King's Road, London SW10 0DR (wheelchair accessible)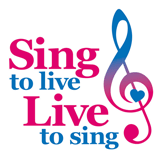 Health monitoring and evaluation of the programme
An important part of the Sing to Live, Live to Sing programme was the evaluation of the health and well-being outcomes for residents. Download a summary evaluation of the pilot project: