Leighton House
The Gold Drawings: Curator's Tour
Buy tickets
Event Information
Date:
29 March 2023 / Multiple dates
Duration:
29 March and 27 April, 9am - 10am
About the event
Join Sarah Hardy, Director of the De Morgan Museum, for an exclusive tour of Evelyn De Morgan: The Gold Drawings (11 March - 27 August 2023).  This new exhibition at Leighton House showcases some of De Morgan's most accomplished drawings, from delicate pastel portraits to large compositional pieces in gold paint of her own invention. Angels, deities and mythological women dominate the compositions, hinting at De Morgan's social and political concerns.
Evelyn De Morgan is one of the most intriguing artists of the Victorian period. Sarah will discuss her upbringing and artistic training, her marriage to the potter William De Morgan, and reveal the expert techniques the artist developed to create these stunning gold drawings.
Evelyn De Morgan's artistic skill and innovative approach, particularly with her gold drawings, are rarely discussed in critical appraisals of her work, overshadowed by her interesting biography and the rich visual symbolism in her paintings. This new exhibition at Leighton House recognises De Morgan as an ambitious artist on the same merits as her male counterparts.
Please note that the tour on Thursday 30 March has been cancelled due to train strikes.
If you have purchased a ticket for a tour on Thursday 30 March, a member of the team will contact you shortly with information about ticket exchanges or refunds.
Tours take place on Wednesday 29 March and Thursday 27 April , 9-10am.
Please note that the museum café opens at 10am.
Ticket to the tour does not include entry to the historic house and you should buy an admission ticket if you would like to visit.
Meet Sarah Hardy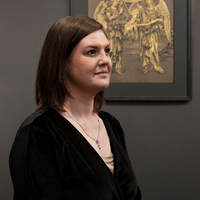 Sarah Hardy completed her degree and masters degree in Art History, focussing her work on the British Arts and Crafts movement. She worked in exhibitions management at the National Gallery and British Library before joining the De Morgan Foundation in 2018. Sarah has published widely on Evelyn De Morgan, including an essay on her gold drawings which was published in 2022. Sarah is also a Trustee of the William Morris Society.
For updates on all of our  upcoming events sign up to our museums e-newsletter