The Royal Borough of Kensington and Chelsea and Middle Row Primary School secured planning permission in December 2012 to build a new school, which will open in time for the new school year in September 2014.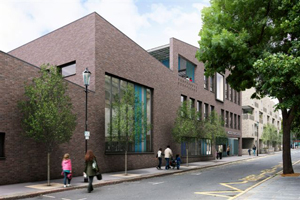 The new school will be larger than the previous one, being two-form entry with 420 places. There will be a 30 place nursery and 16 place specialist speech and language centre.
Why rebuild the school?
The existing buildings on the site were no longer able to meet the requirements of staff and pupils. Built as two separate schools in the early twentieth-century, the classroom layouts did not easily support modern teaching and many are too small. The old buildings were inefficient and expensive to run and accessibility issues could not easily be addressed.
The new school will provide more flexibility in how and where the pupils are taught and how the school operates, while also reducing maintenance and running costs. It may also be able to offer opportunities for the community to use parts of the school. The primary objective, of course, is to provide pupils with the best possible learning environment.
To help fund the school, it is necessary to include an element of residential development. The new housing will be a range of sizes from one and two-bedroomed flats to four-bedroomed houses. There may also be some retail units facing Kensal Road.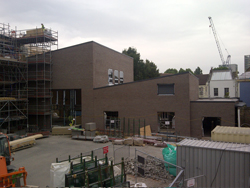 What's happening?
In September 2013 Middle Row Primary School changed name and became ARK Brunel Primary Academy.
Building work is on schedule, with all structural work to the new school building having now being completed. The internal fittings and finishes are currently being carried out and furniture will be going in during March 2014.
Landscaping will take place in January and February, which will cause some disruption locally as lorries will be delivering plants and trees.
By the end of December 2013 the hoarding around the school will be down and footpaths will be reopened.
The current main building will be demolished in spring 2014, but prior to this there will be an open evening for residents which will explain the plans and what the local impact will be during the demolition work. 
Find out more
You can find out more about what is happening to Middle Row Primary school by visiting the Frequently Asked Questions.
If you have any questions not covered in the FAQs you can email mrenquiries@rbkc.gov.uk.