The prestigious Green Flag Award is the national benchmark for parks and green spaces. Several of our parks have achieved Green Flag status.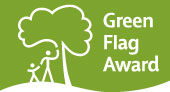 In 2001 Holland Park was awarded its first Green Flag – the national benchmark for parks and green spaces. Since then Kensington Memorial Park, St Luke's Gardens, Cremorne Gardens, Westfield Park, Little Wormwood Scrubs and Gunnersbury Cemetery have also achieved Green Flag Status. As part of the Ten Year Parks Strategy, by 2015 the borough's eight major parks will have all gained Green Flag Status.
The criteria for this prestigious award require the park authorities to demonstrate both on paper and by annual inspection:
that it is a welcoming place
that it is a healthy, safe and secure place
that it is a well-maintained and clean place
that is a sustainable environment with sustainable management practices in place
that attention is paid to the conservation and heritage of the site
that there is community involvement
that the park is well marketed and promoted
that the park is in possession of a management plan and that there is evidence that this is being used.
Our current flags are therefore flown with pride by the Royal Borough of Kensington and Chelsea.