"On Public View" takes you on a journey around sculpture in the Royal Borough
This anthology celebrates the diversity of public art and includes not only those sculptures created by artists, but other more utilitarian structures, such as drinking fountains, horse troughs and coal plates. The Royal Borough's commitment to public art is long standing and continuing; we hope you enjoy browsing this publication, and watching the video below of Cllr Moylan talking on the subject in more detail.
Browse chapters in the book on the links below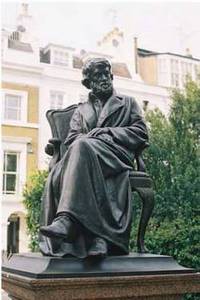 Please be advised these are very large file sizes and may take a few moments to download - information on how to navigate and print the documents is contained in 'READ ME FIRST'.
01 - 1-19 Thames-Royal Hospital.pdf
02 - 20-39 Chelsea Old Town Hall-Knightsbridge.pdf
03 - 40-47 South Kensington and Museums.pdf
04 - 48-64 High Street Kensington + Kensington Palace.pdf
06 - 80-93 Notting Hill Gate to Kensal Cemetery.pdf
07 - Grouped Pieces and Miscellaneous.pdf