Terms and conditions of hire
Download and print our Terms and conditions of hire [PDF file] (file size 131Kb)
The above document contains information on:
applications for hire
payment of charges
cancellations
sub-letting
supervisions of premises
right of entry
loss, damage or injury
third party/ public liability insurance
taxes, fees and such like
damage, decorations, advertising and pyrotechnics
damage to Council property
Compliance with statutes and regulations
permitted numbers
stewards, ushers, uniformed attendants and such like
obstruction of passages and such like
electrical installations
exhibitions considered to be dangerous, undesirable or unsuitable
films
animals and birds
smoking
use of amplified sound or music
musical copyright
catering
times of termination
delivery and removal of goods and refuse
access on the premises and availability

PDF stands for Portable Document Format developed by Adobe.
For help and download tips see About Adobe and PDF files. You need a copy of Acrobat Reader on your computer to access a PDF file. Get either a free copy or upgrade by accessing the following link - download Adobe reader.
If you have difficulty accessing PDF documents, there are some useful online tools available on the Access Adobe website which can convert PDF documents into HTML or text. Click the following link http://access.adobe.com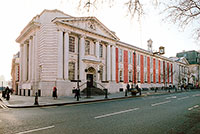 Contact the Conference and Events Centre to book this venue or phone 020 7361 2220.