Letter from Sir Richard Francis Burton
Letter from Sir Richard Francis Burton(1821-1890)in Damascus to Frederic Leighton. Date 22 March 1871.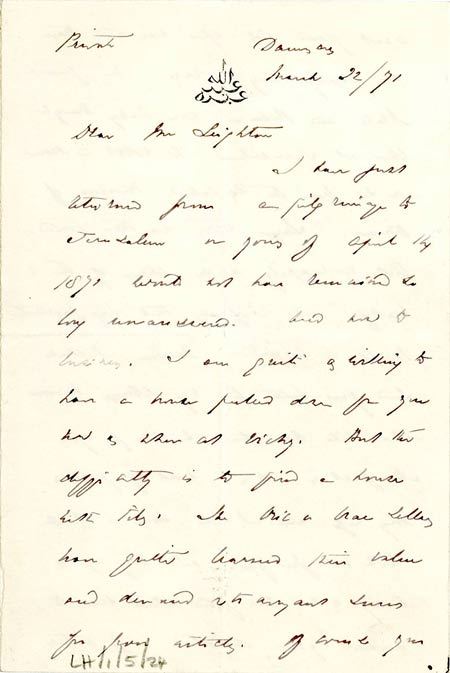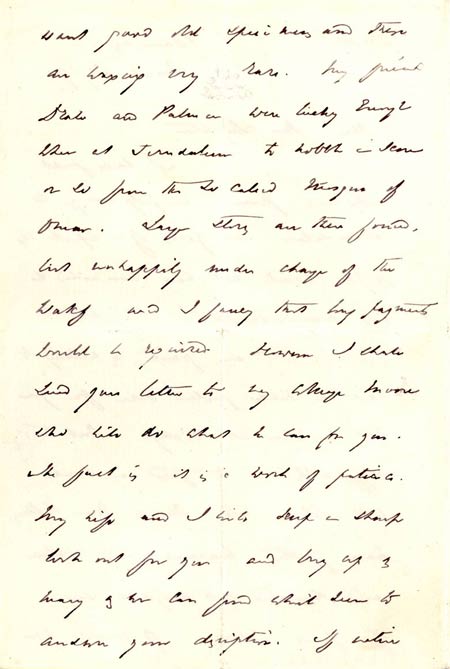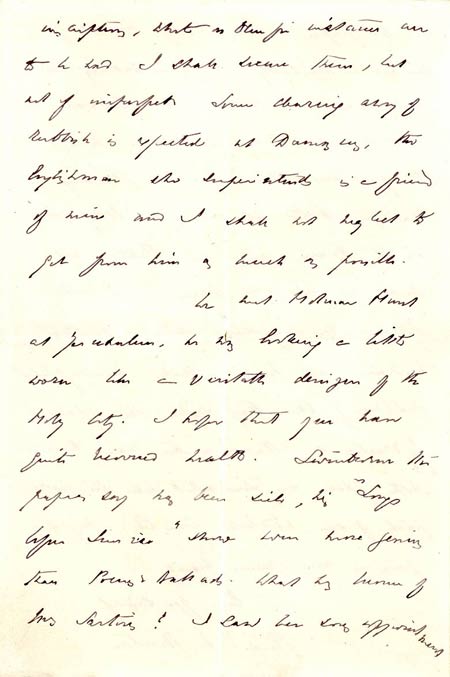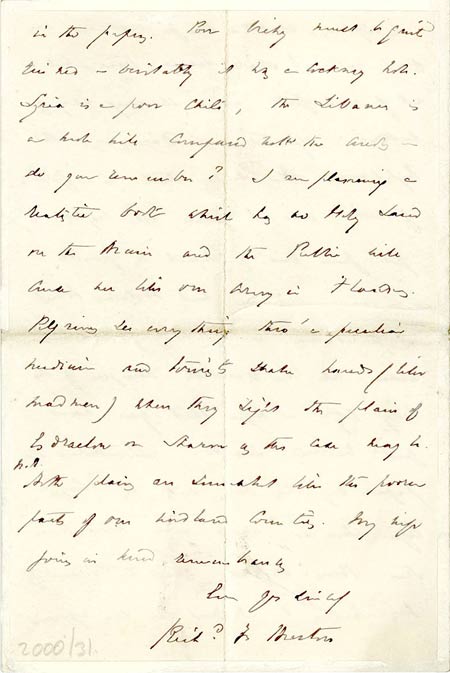 Damascus
March 22/71

Dear Mr Leighton
I have just returned from a pilgrimage to Jerusalem or yours of April 14 1871 would not have remained so long unanswered. And now to business. I am quite as willing to have a house pulled down for you now as when at Vichy. But the difficulty is to find a house with tiles.
The bric a brac seller have quite learned their value and demand extravagant sums for poor articles. Of course you want good old specimens and these are waxing very rare.
My friends Drake and Palmer were lucky enough when at Jerusalem to nobble a score or so from the so called Mosque of Omar. Large stores are there found, but unhappily under charge of the Wakif and I fancy that long payments would be required. However I shall send your letter to my colleague Moore who will do what he can for you. The fact is, it is a work of patience. My wife and I will keep a sharp look out for you and buy up as many as we can find which seem to answer your description. If native inscriptions white or blue for instance are to be had I shall secure them, but not if imperfect. Some clearing away of rubbish is expected at Damascus, the Englishman who superintends is a friend of mine and I shall not neglect to get from him as much as possible.
We had Holman Hunt at Jerusalem, he was looking a little worn like a veritable denizen of the Holy City. I hope that you have quite recovered health. Swinburne the papers say has been sick, his 'Songs before Sunrise' show even more genius than Poems and Ballads.
What has become of Mrs Sartoris? I saw her son's appointment in the papers. Poor Vichy must be quite ruined - veritably it was a Cockney hole. Syria is a poor Chili, the Libanus is a mole hill compared with the Andes – do you remember?
I am planning a realistic book which has no Holy Land on the brain and the Public will curse her like our army in Flanders. Pilgrims see everything thro' a peculiar medium and tourists shake hands (like madmen) then they sight the plain of Esdraelon or Sharon as the case may be. N.B. Both plains are somewhat like the poorer parts of our midland Counties. My wife joins in kind remembrances.
Ever yours sincerely
Rich'd F Burton