Leighton House Virtual Tour
Make your own virtual exploration of Leighton House Museum. Click and drag with your mouse to see panoramas of the Arab Hall and Narcissus Hall.
See a wealth of beautiful objects made by both Middle Eastern and Victorian craftsmen assembled in this unique environment.
You can find out information about many of the details of the spaces as you do so by clicking on the numbered hotspots.
To see views of other rooms in the Museum click on the plan.
If you can't install Flash 9 on your computer you will need to launch the basic version of the tour.
We hope your virtual tour will inspire you to come and visit!

Launch Virtual Tour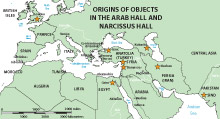 Map showing origin of objects in Arab Hall and Narcissus Hall