Kensington Council Chamber
A particularly impressive resource, the Council Chamber houses a central bank of seating and leather-topped desks for 70, incorporating centrally controlled, individual microphones.
The galley houses 54 fixed seats and a further 51 chairs can be added if required.
Relevant information

top of page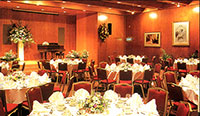 Contact the Conference and Events Centre to book this venue or phone 020 7361 2220.