Turning on / Enabling Javascipt in your web browser
To run the Kensington Conference and Events Centre tour your browser must support JavaScript and have Java enabled. To set your browser to support these requirements, click the link below that matches your browser version and follow the instructions.
Internet Explorer 5 or 6
Instructions to enable cookies and JavaScript:
From the Intenet Explore menu bar, click tools and select Internet Options
From the dialogue box click the security tab
At the bottom of the dialogu box, click the custom level button
Scroll down the list to Microsoft VM sub headed by Java permissions
Click any desired safety level, do not leave it as Disable Java. Click OK
A warning box will pop up telling you that you have changed your security settings. Click Yes
On the security tab screen Click OK
Step 8 You have now enabled java on your browser
Note: These intructions are for Intenet Explorer Version 5 or 6. For intsuctions for other versions go to your browsers help section.
Internet Explorer 5.1.7 for Macintosh
Instructions to enable JavaScript:
From the Macintosh file menu, select Explorer and then Preferences
From the Web Browser menu options, select Java
From the Java Options, next to Enable Java, click the checkbox
Click OK
Firefox
Instructions to enable JavaScript:
From the Tools menu select options
In the left hand menu click the Web Features icon
Tick enable Java and the enable Javascript
Next to the block popup windows tick box click allowed sites button
Type www.rbkc.gov.uk
Click OK
Click OK
Important: even though Enable Java is checked in the Web Features menu Firefox doesn't come with the java plugin. you need to have it installed for it to work Follow the link to download the Java PlugIn.
Netscape 7 and Mozilla 1.6 for Macintosh and Windows
Instructions to enable JavaScript:
From the Edit menu (Windows) or Netscape menu (Macintosh), select Preferences
From the Category menu, click open the Advanced category
Select Scripts & Plugins
Find the Enable Javascript section of the window and click the checkbox next to Navigator
Click OK to apply changes
Close Preferences dialogue box
Relevant information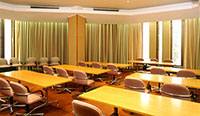 Contact the Conference and Events Centre to book this venue or phone 020 7361 2220.