Who Was Frederic Leighton?
Frederic Leighton (1830-1896), was one of the most famous British artists of the nineteenth century. The recipient of many national and international awards and honours, he was well acquainted with members of the royal family and with most of the great artists, writers and politicians of the late Victorian era.
He was born in Scarborough, Yorkshire to a medical family. His father was a doctor, and his grandfather had been the primary physician to the Russian royal family in St. Petersburg, where he amassed a large fortune. Leighton's career was always cushioned by this family wealth, his father paying him an allowance throughout his life. Leighton's parents were worried about his choice of career as he wrote in a letter of 1879, "My parents surrounded me with every facility to learn drawing, but, strongly discountenanced the idea of my being an artist unless I could be eminent in art".
Leighton did succeed in becoming 'eminent in art' with Queen Victoria buying his first painting in 1855 and in 1878 he reached the pinnacle of his profession, becoming the President of the Royal Academy of Arts. He never married and just before his death from heart failure in 1896, he was ennobled, becoming Frederic, Lord Leighton, Baron of Stretton. He is the only British artist to have been awarded this honour and is buried in St Paul's Cathedral.
The building of his fantastic home
Leighton completed all his artistic training and study in Europe and returned to London in 1859. In 1864 Leighton bought a plot of land and work began on his house. The building was constructed in a series of phases over thirty years. The architect Leighton chose to build his house was George Aitchison (1825 - 1910). Leighton had met Aitchison as a young man in Italy and they became good friends. The first phase of construction to his home cost Leighton £4,000, a considerable amount of money for the time. This would be in the region of £300,000 in currency today.
Leighton the artist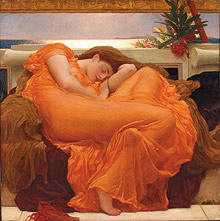 Frederic Leighton, Flaming June 1895 (Ponce Museum of Art, Puerto Rico)
Leighton preferred to paint subject matter that was connected to ancient Greek and Roman mythology. He intended for his paintings to be visually beautiful, and his work then and now has a reputation for luminous colours and solidly drawn figures. Leighton's contemporaries included the French Impressionist painters and he would have seen the work of Monet, Renoir and others in both Paris and London.
Leighton said of the Impressionists that 'Impressionism is a reaction from the old conventionalism, but an impressionist must not forget that it is the deep-sinking and not the fugitive impressions which are the best'. Leighton's role at the Royal Academy included the education of younger artists. His great ability for this is summed up in the words of one of his pupils; the sculptor Hamo Thornycroft wrote, 'he was the most energetic and took the greatest pains to help the students. He was, moreover, an inspiring master'.
Leighton the traveller
From an early age, travelling was part of Leighton's life. His mother, not liking the climate and 'polluted' environment of Britain, insisted the Leighton family spend prolonged periods of time in Europe. Leighton therefore travelled widely around Europe and could speak French, German, Italian and Spanish. In 1857 at the age of 27 he made his first trip to Africa, visiting Algeria. This was the beginning of a lifetime's involvement with North Africa and the Middle East. It would ultimately lead in the construction of his Arab Hall in 1877 which was inspired by a twelfth century Arab-Norman palace called La Zisa in Palermo, Sicily.
Leighton the outsider?
Leighton's early years living and studying abroad resulted in many people of his time questioning his 'Britishness'. Leighton's first biographer, Emilie Barrington, wrote in 1906 'his rapid utterance, his picturesque gesture, his very appearance were not emphatically English. Certain Englishmen who knew Leighton felt out of sympathy with him for this reason and had difficulty in recognising him as one of themselves'. Barrington goes on to mention more troubling ways of Victorian thinking when she wrote that the famous nineteenth-century author and cartoonist George du Maurier was 'convinced that in Leighton existed indications of foreign or Jewish blood but was quite unable to discover any facts in support of this theory and was troubled on this point'. Leighton's questioning of established religions would also have been noticeable in an age renowned for its evangelical Christian attitudes. A letter written to Leighton from his mother in 1852 states, 'I beseech you, do not suffer your disbelief in the dogmas of the Protestant Church to weaken the belief I hope you entertain of the existence of a Supreme Being'. Leighton's humanism was shared by his sister Augusta who wrote in her journal in 1856, 'I could never satisfy myself of the truth of Christianity....the Bible would still have no more effect upon me than it were an old wife's fable!'
Leighton remained a bachelor and rumours of his having an illegitimate child with one of his models in addition to the supposition that Leighton may have been homosexual continue to be debated today. Leighton left no diaries and his letters are telling in their lack of reference to his personal circumstances. No definite primary evidence has yet come to light that effectively dispels the secrecy that Leighton built up around himself.
Leighton's house then and now
It is important to keep in mind that Leighton House Museum was once a home. Along with domestic furnishings were Leighton's enormous collections of ceramics, textiles and personal collectables from across the Mediterranean, Middle and Far East.
Following his death in 1896, the house and all its contents were left by Leighton to his two sisters, Alexandra and Augusta. In order to meet the financial instructions in their brothers will they were forced to sell virtually all his collections. This sale took place at Christies over nine days from 8 July to 16 July 1896. The house became a museum to the memory of Frederic Leighton in 1898 and since then has been administered by the Royal Borough of Kensington and Chelsea. The collections at the museum today represent items that were originally in Leighton's possession and that have been retrieved by the museum over the past century and also loans from private donors.
Documents and Sources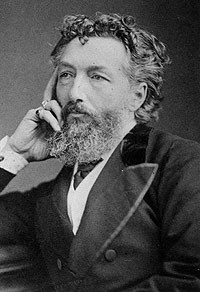 >
Leighton's Passport
>
Letter from Leighton
>
Letter to Leighton
>
Leighton's Tangiers


Photographs
>
Empire and Travel Map
>
Collecting Map
>
La Zisa Palace
>
Leighton's Paint Box
Extras