Empires and People
This text explains who ruled the various countries of the Middle East and North Africa in the nineteenth century. Who were the Ottomans and how did they manage to hold an empire together that was larger than that of ancient Rome?
This text looks at the working lives of ordinary people at that time. It describes their homes, what they ate and the role of law and religion for the community. Education is also considered.
This text examines the negative stereotyping of ethnic difference from a variety of viewpoints. The East and West's historic role in slavery is explored as is the mis-use of science and religion as a defence of racism.
This text outlines how the Middle East was seen as a vital gateway to India by Britain and how this concern affected relationships with the Ottoman Empire. Britain's invasion of Egypt in 1882 is also explored as the beginning of European colonisation of Africa.
This text examines what Leighton thought about the ethnicities he encountered on his travels. What were his views on slavery and issues of race? How do Leighton's comments appear to a 21st century audience?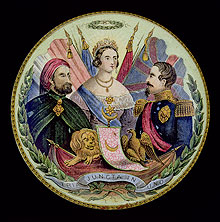 Porcelain pot lid depicting Queen Victoria, Napoleon III and Abdul-ul-Mejid, Sultan of Turkey. Late 19th century (Courtesy Fitzwilliam Museum, Cambridge/The Bridgeman Art Library)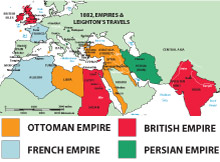 1882, Empires & Leighton's Travels, Map.





Documents and Sources
>
Leighton's Passport
>
Letter from Leighton
>
Letter to Leighton
>
Leighton's Tangiers


Photographs
>
Empire and Travel Map
>
Collecting Map
>
La Zisa Palace
>
Leighton's Paint Box
Extras