Hidden Gem to National Treasure
Leighton House  has recently completed a major redevelopment aimed at finalising the restoration of the historic house and creating new facilities and resources to sustain it through the 21st century.
More public space and access for all
Hidden Gem to National Treasure focussed on the two unsympathetic additions made to the east end of the house in the 1920's, providing the museum with a transformed new wing that allows for: 
Step-free access to all public parts of the building.
The recovery and restoration of the original architecture lost in later additions.
Improved visitor facilities, including the new De Morgan Café, shop, toilets and a dedicated reception area.
New permanent displays on Leighton, the history of the house and the Holland Park Circle of neighbouring artists' studio-houses.
New contemporary commissions including, Oneness, by Shahrzad Ghaffari and a unique suite of Turquoise Mountain furniture.
A new purpose-built gallery dedicated to the display of drawings and works on paper (free to access).
A purpose-built collection and archive store.
A dedicated suite of Learning spaces repurposed within the basement of the historic house.
Leighton's entrance hall and winter studio reintegrated into the sequence of historic interiors, completing the presentation of the house as he left it.
The creation of these new facilities has had minimal impact on the historic fabric of this unique building and, in fact, has taken the pressure off the historic house, allowing it to be better preserved and cared for into the future, whilst  providing a richer and more fulfilling visitor experience.
Architects:  BDP
Project Managers:  Gardiner & Theobald
Principal Contractor:  Quinn London Ltd
Quantity Surveyors:  Jackson Coles
Carousel containing 1 slides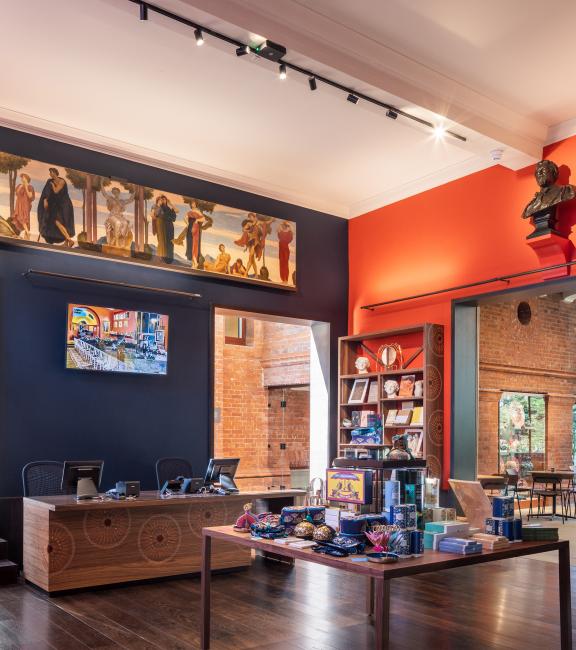 It is an incredibly exciting moment for Leighton House. We have witnessed the final phase of a master plan that commenced in 2008 and which has transformed the museum and the experience we can offer our visitors. Thank you for supporting us on this journey.