New acquisitions to the Leighton House collection
Follow our museum's recent acquisitions and curatorial efforts to reflect, and where possible restore, Frederic Leighton's original collection.
Following Frederic Leighton's death in 1896, his remarkable collection of artwork, furniture, textiles, ceramics, books and metalwork were sold at a Christie's sale which lasted several days. Since the  Closer to Home restoration project in 2008-10, Leighton House has been working to return objects from Leighton's original collection to the house, or where that is not possible, acquire similar examples.
Over the past year, our curatorial team have made a number of successful new acquisitions, which will go on display when Leighton House reopens following our major Hidden Gem to National Treasure transformation, helping to enrich our understanding of Leighton's extraordinary home.
Chinese Bronze Altar Vase, 14th-16th century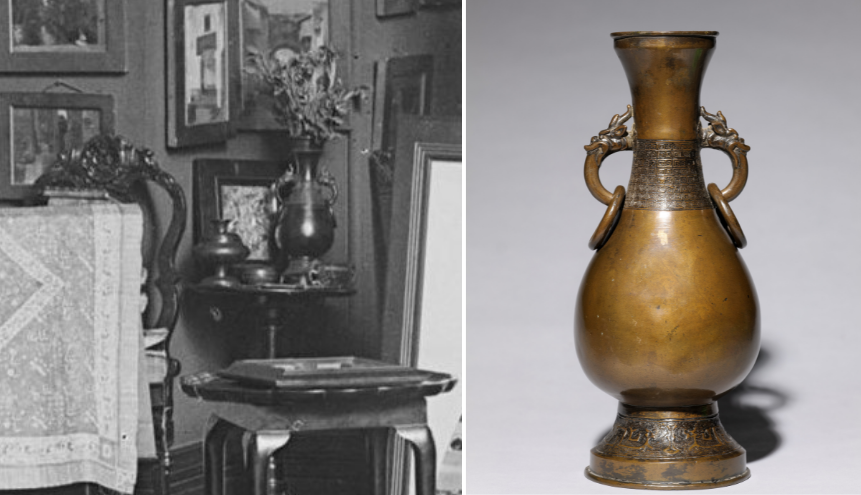 This vase which was acquired in spring 2021 and bears a close resemblance to one owned by Leighton and displayed on a side table at the west end of his studio. In identifying items for acquisition, photographs of the house from Leighton's lifetime are often the best resource, but the Christie's sale catalogue is also helpful as it often gives dimensions. In the sale catalogue Leighton's vase was described as: "A bronze vase, with monster ring handles, band of diaper ornament – 15 inches high."
Leighton owned a significant collection of Chinese art, but very few pieces from China are on display in the house today. The acquisition of this vase is part of an effort to better represent this side of Leighton's interests within the house.
Dumbwaiter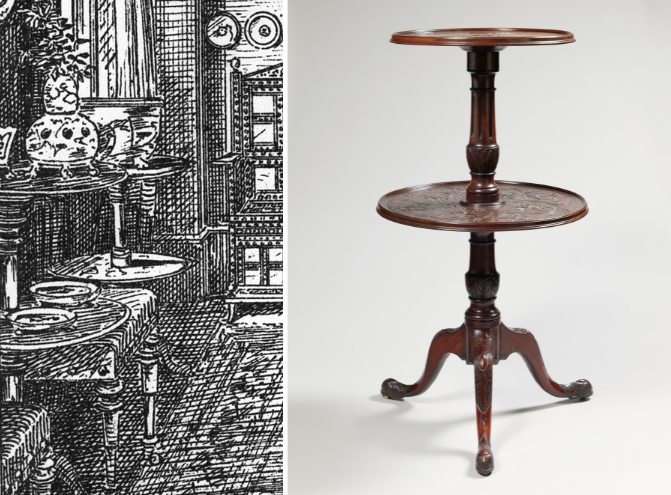 This carved two-tier dumbwaiter was also purchased in spring of 2021. Leighton owned a pair of dumbwaiters which sat against the wall in the dining room and were used to display ceramics. In the Christie's sale catalogue, they are described as having engraved tops which is a highly unusual feature. Leighton seems to have deliberately sought out pieces of furniture which were out of the ordinary and many of the items from his collection have something which sets them apart. This similar carved dumbwaiter will be on display in the dining room of Leighton House.
Oil paintings
Other recent acquisitions to the Leighton House collection include Albert Moore's Vase of Dahlias, which will be displayed in its original position in the Silk Room, as well as an original Damascus landscape by Leighton himself documenting his trip in 1873.
Green Windsor chairs
Inspired by the original coloured drawings George Aitchison created of the Silk Room, Leighton House commissioned specialist Windsor Chair Maker, Nigel Briggs, to recreate two chairs from Leighton's original collection, which are now lost.
Completed with a green finish to match the originals, it is thought Leighton purchased the chairs and added the green finish separately. 
As seen in a photograph from 1895, the new chairs will be displayed in their original Silk Room setting when Leighton House reopens this autumn.