Collections highlight: Vase of Dahlias
Find out more about this recent acquisition, a delicate oil painting by Albert Moore.
Born in York on 4 September 1841, Albert Moore (1841-1893) came from a family of painters. His father William Moore (1790-1851) was a portrait painter and several of his brothers also went on to be artists, most notably Henry Moore (1831-1895), a marine painter. Like Leighton, Moore showed early artistic promise and by the age of sixteen was enrolled in the Royal Academy schools, having already exhibited two watercolours there. This was an unsatisfactory and short-lived enterprise and Moore left after 'a short time' citing the schools rigid and narrow methods as his reason for leaving.
Moore's aesthetic style was regarded with some hostility by the Academy and in 1869 Leighton stepped in to defend Moore's nude painting A Venus, threatening to withdraw his submission if Moore's piece was omitted. In 1877 Moore moved to 1 Holland Lane, approximately 100 yds from Leighton's front door, becoming for a time, part of the enclave of artists known as the Holland Park Circle. Moore was reclusive by nature and lived in a somewhat squalid ramshackle studio-home which he designed himself with little or no knowledge of architecture – perhaps unsurprisingly the house does not survive. His unconventional living arrangements and taciturn manner alienated him from many of his fellow artists. Leighton however remained on good terms with Moore inviting him to his home on numerous occasions.
At the time of his death, Leighton owned four pieces by Moore: two drawings, one pastel and the oil painting A Vase of Dahlias. This work was gifted to Leighton by the artist probably as a token of thanks in return for Leighton's defence of A Venus. The painting can clearly be seen in a photograph from the 1890s of the Silk Room at Leighton House, hanging near to Shelling Peas by John Everett Millais, which was also a gift from the artist. The fact that Leighton wanted to showcase Moore's painting next to other key works by Watts, Alma-Tadema, Sargent or Costa indicates the degree of significance that he attached to this small yet arresting canvas. 
The reason Moore had for selecting this particular piece for Leighton are not recorded. Leighton's collection included a number of studies by artists as well as pictures that were not entirely finished, most notably Joshua Reynolds's Portrait of the Marquess of Rockingham with Edmund Burke. He had a particular painter's interest in understanding the process and techniques of his fellow artists, often more apparent in sketches and studies than finished works. A Vase of Dahlias therefore suggests a gift purposefully made by one artist to another.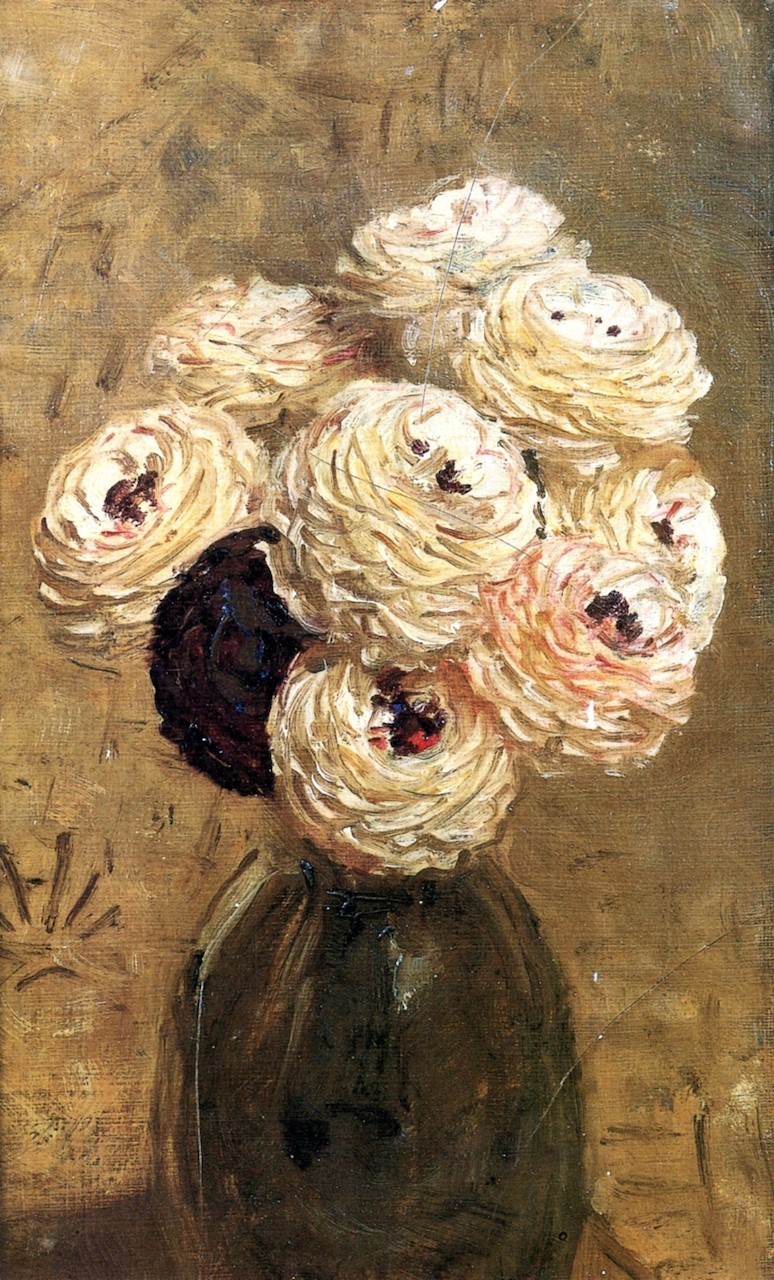 Despite Leighton's support, and the considerable success Moore achieved in his career, he was never elected an ARA. In 1894 the Grafton Galleries held a retrospective of his work which included work lent by Leighton.  In 2017 York Art Gallery held a major exhibition on the artist, Albert Moore: Of Beauty and Aesthetics. This was the first monographic exhibition on the artist since the 1894 memorial exhibition.
A Vase of Dahlias has been acquired with the assistance of the V&A Purchase Grant Fund and the Art Fund and will be displayed in its original position in the Silk Room when the museum reopens.