Upcoming events in our venues
Upcoming Events
Venue: Kensington Town Hall Hornton Street
Dates: 
Saturday, October 23rd 2021 from 11:00 AM to 5:00 PM
Sunday, October 24th 2021 from 11:00 AM to 5:00 PM
Opening times: 11:00 AM to 5:00 PM
Entrance fee:  Free – book a complimentary ticket at Parallax Art Fair: Book free tickets (parallaxaf.com)                
Parallax 'Art' Fair takes place at Kensington Town Hall Hornton Street. It is the largest artist and designer fair in Europe.
Four reasons to join us:
Free entry- it won't cost you a penny.
No VAT on most EU-UK works
No extra commission on top of exhibitor prices
Lowest overheads of ANY art and design fair so prices stay low for you.
If you've never been to an art and design fair before, no worries, just come and look. You've got 300 exhibitors from 30 countries with over 7000 works to choose from! There's also food served by De Ritz to the chilled music. Families and kids are welcome. Described as "the best art and design fair in London" by exhibitors and visitors - come and find out why - bring friends too!
 
Read more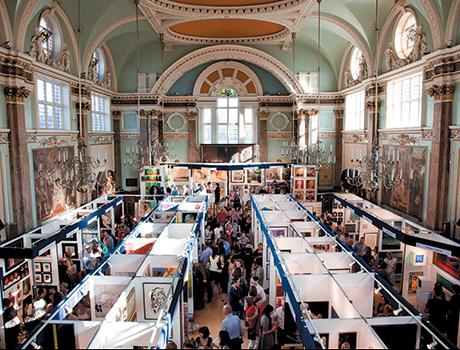 Venue: Chelsea old town hall
Date: Friday 22 October to Sunday 24 October (inclusive)
Opening times: 
Friday 5pm to 9pm (by invitation only)
Saturday 11am to 6pm and
Sunday 11am to 5pm
Entrance fee: free entry
Established in 2007 as the UK's Largest Artists' Fair, Untitled is artist founded and owned with as many as 170 exhibitors selling direct and commission free. We welcome you back to our highly successful and dynamic event averages 5,000 visits over 3 days so be sure to subscribe for free tickets.
Read more