Chelsea Old Town Hall
Located on the famous King's Road, Chelsea Old town Hall provides an ideal and charming backdrop for a diverse range of memorable events including product launches, fashion shows and promotions, through to lectures, meetings and dinner dances.
Chelsea Old Town Hall is also a popular setting for civil marriage ceremonies and receptions.
Address: Chelsea Old Town Hall, King's Road, Kensington and Chelsea, London, SW3 5EE. Download map [PDF file] (file size 300Kb)
Relevant information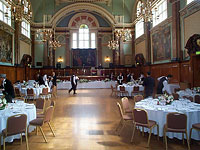 Contact the Conference and Events Centre to book this venue or phone 020 7361 2220.