Application for reductions in hire fees
Download and print the Application for reductions in hire fees [PDF file] (File size 65Kb).
Reductions may be given to organisations that can demonstrate the following criteria:
A 75 per cent per cent reduction is available to wholly local groups or organisations who are registered as a charity and who can show that they provide services for the direct benefit of the residents of The Royal Borough. This does not normally cover fund raising events but does cover Annual General Meetings, small meetings and so on.
A 25 per cent reduction is available to local groups or organisations, as defined above, for fund raising activities such as a Christmas Fair, a Spring Bazaar, and so on.
Organisations applying for a discount must show that they are a charitable organisation and that their aims are designed to reduce hardship and improve living standards.
There are no reduced lettings granted from Tuesday to Thursday (inclusive) between September and May (inclusive) except for the four weeks before Christmas.
Non-charitable organisations, such as local residents' associations, which use Committee Rooms at Kensington Town Hall between 6pm-10pm on weekdays may be eligible for a 50 per cent discount.

PDF stands for Portable Document Format developed by Adobe.
For help and download tips see About Adobe and PDF files. You need a copy of Acrobat Reader on your computer to access a PDF file. Get either a free copy or upgrade by accessing the following link - download Adobe reader.
If you have difficulty accessing PDF documents, there are some useful online tools available on the Access Adobe website which can convert PDF documents into HTML or text. Click the following link http://access.adobe.com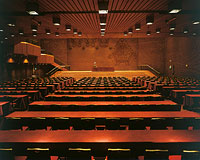 Contact the Conference and Events Centre to book this venue or phone 020 7361 2220.