De Morgan collection at Leighton House
Sarah Hardy, Director of the De Morgan Foundation, highlights her favourite William and Evelyn De Morgan pieces from the Leighton House collection. 
Following the reopening of Leighton House later this Autumn, a new series of displays will be showcased through the historic and modern interiors, including an extraordinary collection of William De Morgan ceramics. The selection was gifted to the museum in the 1920s by Ida Perrin (1857-1953), a collector and artist associated with the Holland Park Circle, who greatly admired Leighton's work. She generously funded an extension to the original building in the 1920s, which has now been redeveloped as part of the Hidden Gem to National Treasure project, and is where the William De Morgan collection of ceramics will be placed on display for the enjoyment of visitors. 
William De Morgan and The Arab Hall commission
Leighton probably knew William De Morgan through his work with Morris & Co. in the 1860s and would have been aware that the artist had set up a successful art pottery in nearby Chelsea in 1872. By the time Leighton decided to build the Arab Hall extension to his Holland Park home, De Morgan was the obvious choice to install the tiles and was also commissioned to make replacements for broken pieces, as well as creating additional turquoise tiles for the entrance hall and Narcissus hall to complete the scheme. 
William De Morgan's ceramics reflect the wide range of sources he drew inspiration from. It was during his work with Leighton's own collection of 15th and 16th century Damascene tiles that he first became interested in the cool blue palettes and ornamental foliage of Islamic art, which would become part of his signature style. 
Inspired by Islamic art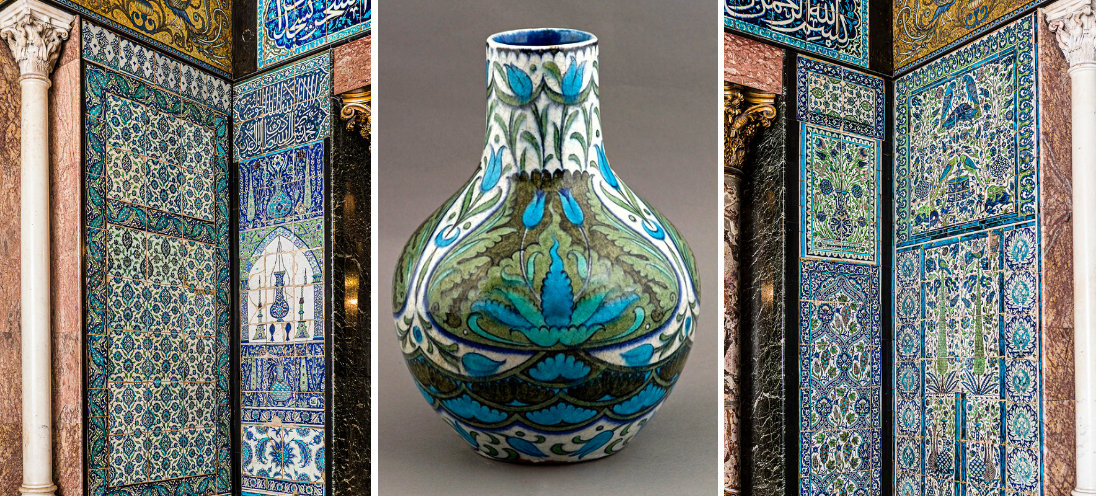 This beautiful Persian Vase in the Leighton House collection demonstrates De Morgan's enthusiasm for taking the motifs from Islamic tiles and adapting them to use on his own ceramics. This piece also shows his humour as he has used the vase motif found in some of the Arab Hall tiles to decorate a vase. It plays on a verse from the popular Rubáiyát of Omar Khayyám (popularised through an 1859 translation by Edward Fitzgerald) - a Persian poem which questions the existence of a sense of self: 
And strange to tell, among that Earthen Lot
Some could articulate, while others not:
And suddenly one more impatient cried--
"Who is the Potter, pray, and who the Pot?"

Perhaps, De Morgan was making a subtle comment that his job was to replicate originals in the Arab Hall commission and not to be creative. To his credit, they are almost indistinguishable from the originals and form a beautiful scheme. 
Lustreware revival
De Morgan's other signature style of decorating pottery was to create dazzling lustreware, which reflects a beautiful metallic iridescence in the light. This is a difficult glaze technique to produce. It requires a metallic oxide glaze to be painted on the ceramic surface and fired at the critical temperature in a kiln starved of oxygen. The heat of the kiln oxidises the glaze and just the metallic deposit is left.
Usually, De Morgan used this glaze to create animal and floral designs for tiles and plates, so this vase is quite rare. He has created a uniform lustre finish devoid of distracting decoration so we can appreciate the unique beauty of the copper lustre glaze. 
Evelyn De Morgan
In 1887, William married Evelyn Pickering, a successful painter who had exhibited her paintings alongside Leighton at the Grosvenor Gallery in London. When Leighton House first became a museum after the artist's death, Evelyn De Morgan was one of the first artists to exhibit there, holding a successful solo show in 1902.  
Her painting Victoria Dolorosa (1900) was exhibited in this show, a timely and strategic placement of a picture which deals with war at the time when the British involvement in the controversial Boer War was under much public scrutiny. As a pacifist artist, Evelyn De Morgan tried to view war as a tool of eventual peace, but she fully understood the brutality and toll on humanity it took. 'Victoria Dolorosa' means sorrowful victory in Latin. Her comment in this picture is that whilst one side wins in war, there is a huge price to pay for humanity. The soldier receives a crown, but it is from the angel of death. 
The version of this painting now in the Leighton House collection (donated by Mr Pickering in 1919) is a study for the painting in gold pigment on dark paper. This emphasizes the perceived glory of war, but the paper suggests how delicate this image is. Evelyn De Morgan made a number of these beautiful gold drawings, a rare material and technique which was used by her and the painter Edward Burne-Jones.