Solar Together London – buying solar panels and battery storage made easy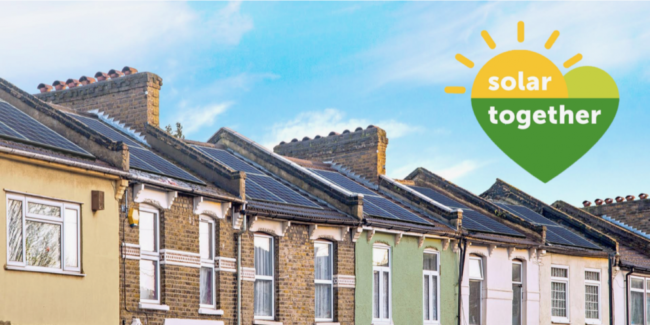 Register your interest in the Solar Together campaign
The Council has set an ambitious target to be a carbon neutral borough by 2040, declaring a climate emergency in September 2019. The Solar Together initiative which aims to make the transition to clean energy as cost effective and hassle-free as possible is part of our commitment to climate action.
Do you want to save on your energy bill and generate your own clean electricity?
Having your own solar panels can be a smart investment; not only can you save on your energy bill, but you could earn money from the electricity you generate and power your home with clean energy. 
The Royal Borough of Kensington and Chelsea is working in partnership with the Mayor of London on Solar Together London. This is an innovative new scheme offering high-quality solar photovoltaic (PV) panels and battery storage. It is a group-buying scheme, which brings London households together to get high-quality solar panels at a competitive price helping you through the process and keeping you informed at every stage.
Since 2015, with support from the Solar Together scheme, over 960 houses now have solar panels in London. This means over 2.3 MW of solar power and over 7,900 panels installed across London, including in Kensington and Chelsea. 
How does it work?
Registration: You can register for free and without obligation on the Solar Together website before 15 March 2022. All you need is details about your roof, such as its size and orientation.
Auction: A supplier 'auction' will be held on 15 March 2022, when approved solar suppliers will bid for the work. The more people that register, the better the deal should be for each house.
Personal recommendation: From 4 April 2022 you will be contacted with a personal recommendation, based on the specification of your roof. This includes your costs and specification of your solar panel installation. 
You decide: The decision is then yours as to whether you want to accept your offer/recommendation. There is no obligation to continue. You will have until 13 May 2022 to decide and will be invited to visit an information session. 
Installation:  If you accept the offer, the winning suppliers will contact you to survey your roof and set an installation date. All agreed installations are planned to be completed by the end of October 2022. 
Important Dates
Registration: 7 February to 15 March 2022
Auction: 15 March 2022
Personalised offers sent out: 4 April 2022
Acceptance ends: 13 May 2022
Installations taking place: All agreed installations to be completed by the end of October 2022. 
Do you already have solar panels installed? 
Register to have battery storage added to your existing solar panels to maximise the benefits of your system.
Register and find out more
Solar Together London is being run in partnership with iChoosr - independent experts in group buying. For more information about the scheme, visit the Solar Together London website, where you can register for the scheme and leave questions in the contact form. A dedicated freephone helpline is available to answer your questions Monday to Friday, 8am-5pm on 0800 060 8509.
Planning requirements
Conservation areas
Did you know that living in a conservation area doesn't mean missing out on getting solar panels as they are known as a 'permitted development'? This means, if certain conditions are met, you usually don't need planning permission. For more information on solar panels please visit the Planning Portal website or call the Council's Planning Line on 020 7361 3012.
It is recommended to check with the Council's Planning Department before installation.
Listed buildings
Listed Building Consent and/or planning permission would be required for listed buildings. Any proposal should be discussed with the Council's Planning Department. 
Need to ensure that there is no harm to the fabric, appearance or any other aspect of the special interest of the building. Appropriate locations might include a roof slope set behind a significant parapet, or the flat area of a replacement or altered roof, or on a flat-roofed extension. Careful attention will be given to how they are fixed to original fabric.
You can check if your property is a listed building or in a conservation area. For further planning advice please call the Council's Planning Line on 020 7361 3012.
Last updated: 4 February 2022