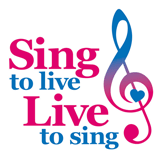 Sing to Live, Live to Sing is an exciting new singing for health programme in Kensington and Chelsea, initiated by the Council's Arts Service in partnership with Public Health.
Did you know singing can help to improve breathing, relieve stress, develop core muscles and improve posture, as well as boosting confidence, encouraging a feeling of belonging, and improving overall mood?
Take part in the Sing to Live, Live to Sing group singing workshops, have fun and meet people.  Workshops are normally free, and open to all residents aged 18 years and over. No previous singing experience is necessary.  Participants will be invited to take part in a short health questionnaire during the workshop series.
Take part in Sing to Live, Live to Sing
Workshops take place weekly during term time. The next term starts week commencing 9 January 2017 for twelve weeks.
Contact your nearest venue for details and to register to take part, or email arts@rbkc.gov.uk for a registration form.
---
Upcoming performances
Sing to Live, Live to Sing groups enjoy performing to the public at both smaller community and large-scale events. If you would like to invite Sing to Live, Live to Sing to perform at your event or venue, please contact Jennifer Wood in the Aerts Service on the contact details below.
Watch short films showing Sing to Live, Live to Sing in action
This short film introduces the Sing to Live, Live to Sing programme and shares experiences from residents taking part.  The film was shot during a performance at the V&A in December 2015.
This short film features singers performing together at Age UK's Health Fair at Kensington Town Hall in October 2015, and features stories from participants about the health and wellbeing benefits they have experienced.
This short film was commissioned by Chelsea Theatre, and features their Sing to Live, Live to Sing groups performing at a community health and wellbeing event, with invited audience taking part in an interactive Sing to Live, Live to Sing workshop.
Sing to Live, Live to Sing is a joint initiative from the Royal Borough of Kensington and Chelsea Arts Service and Public Health.  We gratefully acknowledge the support of the host venues who provide their space in kind for Sing to Live, Live to Sing groups.
For general information about the programme contact Jennifer Wood in the Arts Service on 020 7361 3844 or via email Jennifer.Wood@rbkc.gov.uk 
Health monitoring and evaluation of the programme
An important part of the Sing to Live, Live to Sing programme is the evaluation of the health and wellbeing outcomes for residents. Download a summary evaluation of the pilot project: