Published: Wednesday 18 May 2022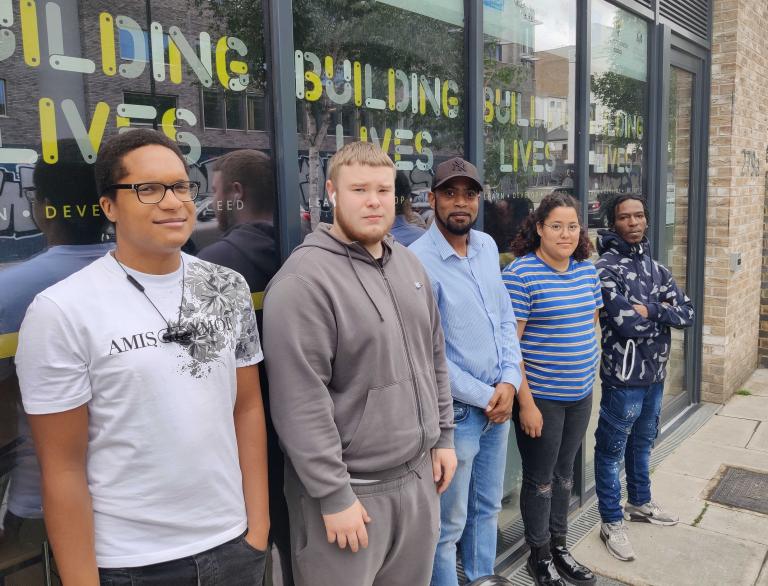 Young people in Kensington and Chelsea are ready to carve out careers in construction after becoming the first graduates of the borough's Building Lives Academy.
A group of students completed the 11-week programme, which is a partnership between Kensington and Chelsea Council, developer Wilmott Dixon and the London Learning Consortium designed to prepare 16-to-24-year-olds for a move into an apprenticeship, job or higher-level training in construction or logistics.
The graduates completed classroom-based sessions in everything from digital skills and employability to English and maths and also benefited from practical work experience, including at the nearby Kensal Road site where Willmott Dixon is currently building some of the Council's planned 600 new homes for the borough.
The Building Lives Academy is based in Council-owned premises in North Kensington which have been provided to Willmott Dixon on a social investment lease. This discounted lease is offered on the basis that it generates a set amount of social value and impact for local residents over its lifetime.
Cllr Kim Taylor-Smith, Lead Member for Grenfell, Housing and Social Investment, said:
"It's been a pleasure to follow the progress of our first Building Lives Academy trainees and I congratulate all of them on taking their initial steps into the construction industry.

"Society is always going to need new homes, new schools and new hospitals, so the skills that our graduates have developed will last them a lifetime.

"The Academy is a great example of how we are working increasingly creatively with our partners to improve the lives of local people from across our communities through innovative social investment projects."
Moesha McColl, one of the successful graduates, said:
"Prior to the Building Lives Academy, I wasn't really doing anything. The course attracted me, especially the chance to do practical work and to get more females into something that's normally male-dominated.

"Now I hope I can get a job or apprenticeship in construction. That wouldn't have been a thought for me at all before, but now I know there are lots of options. If you get the opportunity to do this, you should definitely take it."
Fellow graduate Joseph Lytell said:
"I found out about the Building Lives Academy through my mum and didn't really want to go, but I'm glad I did because I found it interesting and wanted to finish it.

"We've learned a bit of everything and I really enjoyed plumbing on work experience. I have dyslexia and ADD and find it very hard to focus, but plumbing held my attention and I stuck it out."
Another Building Lives Academy graduate, Tyrese Dawkins-Campbell, added:
"The Building Lives Academy has shown me that there are a lot of opportunities that I didn't know about before.

"I enjoyed the practical parts. Doing the work experience helped me to find out what I want to do and I hope to become an electrician. If you can, you should come – it's a good opportunity."
Andre Duffus, tutor for employability and digital skills, said:
"It's very rewarding to see young people come together to get qualifications and then to go on and use those qualifications in their future.

"Not everybody is academic, some are more practical, so we offer both and they can find a balance. It's great to have a career path, but at the same time if you don't know what you want to do, you can do something like this to give you the foundations and understanding you need."
Applications for future sessions at the Building Lives Academy are welcome on a rolling basis. For more information, contact Maria Roye on m.roye@londonlc.org.uk or phone London Learning Consortium on 07940 751767.