North Kensington Community Energy Project
North Kensington Community Energy Project
Pledge your support or join North Kensington Community Energy. To find out more, visit the Repowering London website.
Latest news
In October 2019, North Kensington Community Energy (NKCE) received the Community Renewable Energy Project Award.
Solar panel installations are up!
North Kensington Community Energy (NKCE) installed 289 solar panels on two primary schools (Avondale Park Primary School and Thomas Jones Primary School) and a community centre (Dalgarno Centre) to generate renewable energy, reduce carbon emissions and generate a community fund. Electricity from these climate change fighting solar panels will help power the schools and create a community fund of £28,000 for local groups.
About the project
The Royal Borough of Kensington and Chelsea is committed to tackling climate change and has long been a champion of clean local energy. One of the main priorities in reducing carbon emissions in the borough is to develop community owned energy projects and increase the solar uptake in the borough.
The RBKC Climate Change Team is working in partnership with Repowering London, a not a not-for-profit organisation to develop the North Kensington Community Energy (NKCE) project, which is the first community-owned energy enterprise/power station in Kensington and Chelsea. This is an exciting project/initiative to empower local people to come together and generate clean local electricity, reduce energy bills and carbon emissions and put the profits back into their community.
Repowering London has a track record of delivering five award winning community energy projects including both the first and largest community-owned solar power stations on inner city social housing in the UK (Brixton Energy Solar 1, Solar 2, Solar 3, Banister House Solar and Vauxhall Energy) in the last years. NKCE has been developed based on Repowering's successful model of community energy projects.
To make this project happen, NKCE have launched the community share offer to raise the £83,000 needed to purchase and install the solar panels that allows local residents to buy shares and become a member of the Society. The 86.27 kWp solar panels will provide each building with clean electricity at a reduced price and create a fund of £28,000 (over the lifetime of the project) that the local community will control.  All while saving 32 tonnes of CO2 each year (equivalent to powering around 23 homes) by replacing electricity that would otherwise be generated by coal and gas power stations. 
The local community will get to decide how best to spend the community fund – and residents have already suggested they would like to use the revenue from the solar panels to reduce air pollution in the local area, host educational workshops or fund healthy-living projects. 
As part of the NKCE, Repowering has recently completed a paid training programme for sixteen 16-19 year olds from the borough and is working with the RBKC Climate Change Team to develop educational workshops and solar assemblies for local primary schools to develop.
What is community energy - how does it work?
Community energy schemes are based on democratic principles using co-operative structures. The scheme will earn an income through the Feed-in-Tariff (Government subsidy for renewables), sale of electricity to the building, and exporting electricity to the Grid. The income earned is used to cover the ongoing maintenance and management of the scheme, pay a return to investors and provide for a community fund over the 20-year life of the project. All Repowering projects follow its award winning co-operative model.
NKCE invites residents to get involved in the energy co-op
NKCE is a Community Benefit Society run by local volunteers where every member has an equal say and vote. The group raised £83,000 to buy the solar panels using a community share offer.
North Kensington Community Energy (NKCE) was registered as a community benefit society in July 2018. NKCE has been supported by Repowering London, the Royal Borough of Kensington and Chelsea Council, the Dalgarno Trust, local schools and community groups in RBKC and the Mayor of London. The society offers an exciting new opportunity for individuals to support the generation of solar power in Kensington and Chelsea and to contribute to wider action to reduce our dependence on fossil fuels.
How it works
1. You make an investment from £100 or a donation of any amount
2. By investing, you also become a member of the project and get a say on how it's run
3. We use the money to buy and install solar panels on 2 schools and a community building
4. The solar panels provide cheaper energy for the buildings, saving money that can be spent elsewhere
5. Renewable energy from the solar panels benefit from the Feed-in Tariff and generate an income
6. Profits go to two things:
paying back your investment and average 3% interest
creating £28,000 for a community fund, which members can decide how to spend in the borough
Who can invest or get involved?
Anyone can support the project by investing a minimum of £250; however, for residents in Kensington and Chelsea who are receiving benefits or under 25 the minimum investment is £50. Investors will get their capital back with an average 3% return on their investment across the 20-year life of the project and will have a say on how the project is run.
NKCE makes the benefits of renewable electricity available to everyone in the community, regardless of income. Young people and those on benefits can invest smaller amounts. All residents of Kensington and Chelsea who are not able to invest can become members of the society for £1. All members have an equal say and vote in the running of the society.
Solar panel sites
NKCE will be installing the solar panels on three buildings owned by the Council, providing each building with clean electricity at a reduced price. Then it will export the remaining electricity produced to the National Grid. Over the next 20 years each site will buy as much electricity as possible from the solar array. NKCE intends that energy for each site will be sold under a separate power purchase agreement (PPA), to be agreed between NKCE and the Royal Borough of Kensington and Chelsea.
Avondale Park and St Anne's Federation of Schools
The Dalgarno Trust
Thomas Jones Primary School
Repowering London secured funding from the Mayor of London's London Community Energy Fund to work with the Council to create Kensington and Chelsea's first community-owned renewable energy enterprise and to assess the technical and financial viability for a selection of sites in the North of the Borough. Through this exercise, the two schools and the community centre have been identified as the best suitable sites. 
All the feasibility and structural studies have been carried out and confirm the suitability of these buildings proposed to have solar panels installed on the roof.
The Council's Leadership Team approved to lease and use the roofs of the Council owned buildings to install solar panels as part of the North Kensington Community Energy (NKCE) project. Full details can be found on the Key Decisions page.
Key community benefits:
reduced energy bills for the schools and community buildings in the project
creation of the NKCE community fund (£28,000 over 20 years) 
reducing CO2 generation and tackling climate change at a local level
encouraging interest in science and energy issues and inspiring wider environmental activities in the borough
free workshops and training opportunities for local people
paid internship programme for young people
the project offers a local ethical investment opportunity for the local community/residents who can benefit from a 3% return on investment
allowing the wider community to take positive action against climate change while promoting renewable energy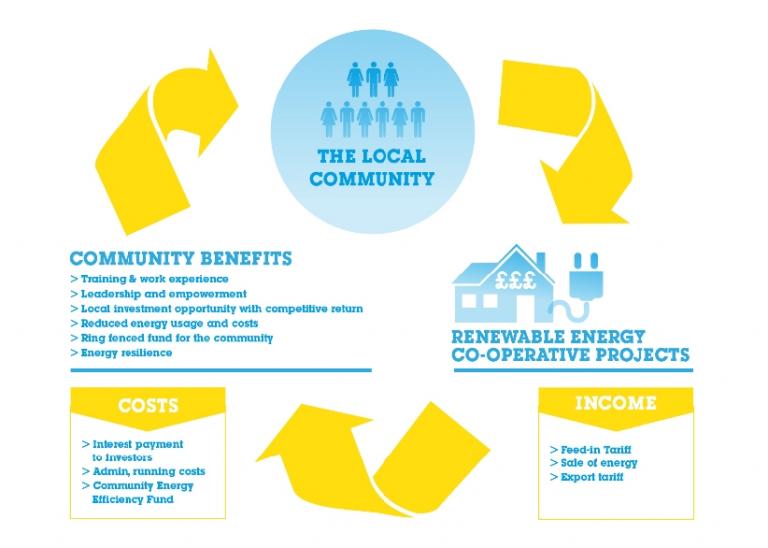 Be part of NKCE - how to get involved 
As a social enterprise, NKCE wants to work with as many residents and community groups as possible to help bring the project to life and involve them in the decision making process.
become a director in NKCE, the energy co-op 
become a member for £1 if you live in the borough (every member has an equal vote deciding how NKCE is run and what they do)
invest in NKCE to get a 3% interest over 20 years
get involved as a volunteer
attend NKCE meetings and community events (they are normally weekly and take place around Ladbroke Grove area)
help us spread the word
follow NKCE on social media: visit the Facebook page, or Twitter - @NorthKenCE
If you are interested in running solar panel making workshops or climate change educational trainings for a community group and/or for young people in Kensington and Chelsea, please get in touch.
For more information on NKCE and the share offer, visit the Repowering London website, or contact Dave Fuller, Project Manager for NKCE Repowering on tel: 020 3674 7519 or email: [email protected], or Anca Giurgiu, Sustainability Projects Manager, RBKC on tel: 07739 315 209, or email: [email protected].
Quotes from NKCE directors and supporters

 

Toby Laurent Belson, Director of NKCE says: "I'm supporting NKCE in my community because it is real action toward something that is important for everyone. I've been listening to twenty years or more of policy makers and the media talking about doing something to solve our environmental problems for "the next generation". I was that next generation and now that I find it is in my hands to do something, I don't want to waste the opportunity. Just as important is the principle that this is our community taking collective responsibility to look after ourselves in our locality - a principle that London has built so much of its success on. We need to create an empowering legacy at the beginning of the 21st Century that shows everyone that communities can take control of their energy needs".

Dave Fuller, project manager for NKCE says: "This is a really exciting project to give normal people an opportunity to take the lead in fighting climate change. It's great to be part of a communally-owned project that will generate a social impact fund to make real change in the community. By working with the Council and groups like the Westway Trust I hope to see the project grow and grow, helping London lead the way in community-owned facilities".

David Lindsay, Lead Member for Healthy City Living, Royal Borough of Kensington and Chelsea Council says: "Not only will this project reduce carbon emissions, tackle climate change and generate more renewable energy but will also provide green employment opportunities benefiting the local community and our Borough. Furthermore, profits from the scheme will be spent directly within the area.  It's so easy as we go about our daily lives to forget that we can make a positive difference and I believe this project represents a chance for the Council, along with our partners, to make a real difference, inspire future generations and help tackle one of the biggest issues of our time being Climate Change".
Last updated: 13 September 2023