Restaurants
Not a definitive list but a selection of some of our restaurants.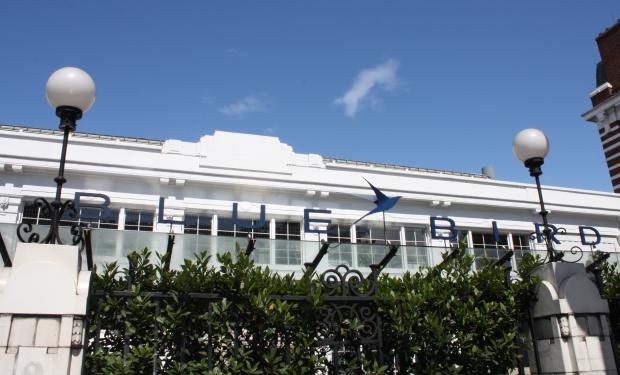 Modern European restaurant in a converted art deco garage.
Read more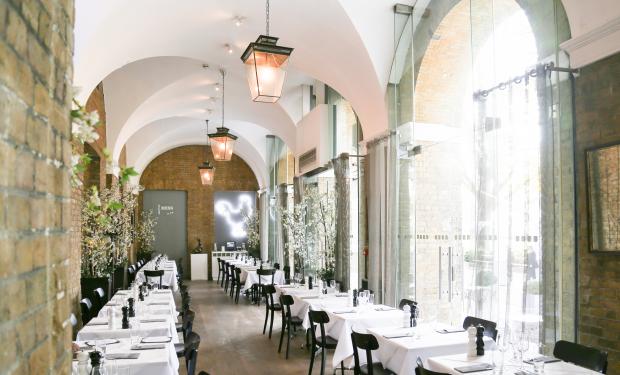 Seasonal British food in part of the former Duke of York's Regiment Headquarters.
Read more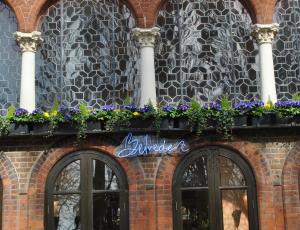 Once the summer ballroom of Holland House.
Read more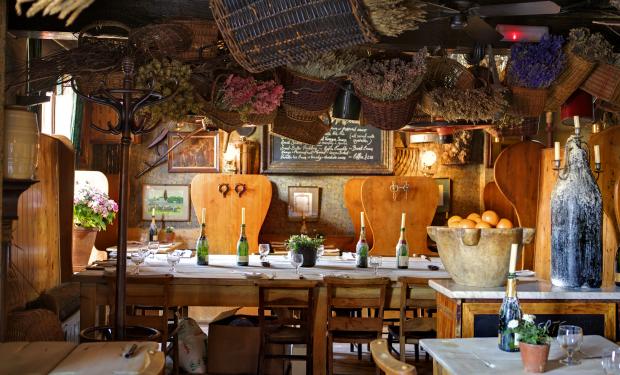 A favourite of the late Princess Margaret – hence the name
Read more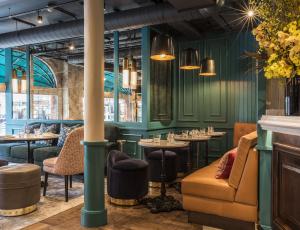 Relaxed all-day eating and drinking.
Read more
Bluebird Restaurant
<div class='contentField'><p>Modern European restaurant in a converted art deco garage.</p> </div><div class='contentField'><p>350 King's Rd, Chelsea, London SW3 5UU</p> </div><div class='contentField'><a href="https://www.bluebird-restaurant.co.uk/">Read more</a></div>
Gallery Mess
<div class='contentField'><p>Seasonal British food in part of the former Duke of York's Regiment Headquarters.</p> </div><div class='contentField'><p>Duke Of York Square, 32 King's Rd, Chelsea, London SW3 4LY</p> </div><div class='contentField'><a href="https://www.saatchigallery.com/gallerymess/">Read more</a></div>
Bibendum
<div class='contentField'><p>French restaurant in the Michelin Building. Bibendum is the name of the Michelin man.</p> </div><div class='contentField'><p>Michelin House, 81 Fulham Rd, Chelsea, London SW3 6RD</p> </div><div class='contentField'><a href="http://bibendum.co.uk/">Read more</a></div>
Belvedere Holland Park
<div class='contentField'><p>Once the summer ballroom of Holland House.</p> </div><div class='contentField'><p>Holland Park, Abbotsbury Rd, London W8 6LU</p> </div><div class='contentField'><a href="http://www.belvedererestaurant.co.uk/Intro.html">Read more</a></div>
Sticky Fingers
<div class='contentField'><p>Bill Wyman's rock-themed American food joint</p> </div><div class='contentField'><p>1 Phillimore Gardens, Kensington, London W8 7QB</p> </div><div class='contentField'><a href="https://www.stickyfingers.co.uk/">Read more</a></div>
Maggie Jones
<div class='contentField'><p>A favourite of the late Princess Margaret – hence the name</p> </div><div class='contentField'><p>6 Old Ct Pl, Kensington, London W8 4PL</p> </div><div class='contentField'><a href="http://www.maggie-jones.co.uk/">Read more</a></div>
Kensington Place
<div class='contentField'><p>Fish restaurant and shop</p> </div><div class='contentField'><p>201-209 Kensington Church St, Kensington, London W8 7LX</p> </div><div class='contentField'><a href="https://www.kensingtonplace-restaurant.co.uk/at/">Read more</a></div>
The Ivy Chelsea Garden
<div class='contentField'><p>Relaxed all day dining</p> </div><div class='contentField'><p>195 -197 King's Rd, Chelsea, London SW3 5EQ</p> </div><div class='contentField'><a href="https://theivychelseagarden.com/">Read more</a></div>
Colbert
<div class='contentField'><p>French style bistro</p> </div><div class='contentField'><p>50-52 Sloane Square, Chelsea, London SW1W 8AX</p> </div><div class='contentField'><a href="https://www.colbertchelsea.com/">Read more</a></div>
Gail's Bakery Kensington High Street
<div class='contentField'><p>Neighbourhood bakery and café</p> </div><div class='contentField'><p>240 - 242 Kensington High St, Kensington, London W8 6ND</p> </div><div class='contentField'><a href="https://gailsbread.co.uk/bakeries/high-street-kensington/">Read more</a></div>
Café Lisboa
<div class='contentField'><p>Authentic Portuguese café famous for its custard tarts</p> </div><div class='contentField'><p>57 Golborne Rd, London W10 5NR</p> </div><div class='contentField'><a href="/explore-kensington-and-chelsea/cafe-lisboa" hreflang="en">Read more</a></div>
Wayne's
<div class='contentField'><p>Swedish organic coffee shop</p> </div><div class='contentField'><p>225 Kensington High St, Kensington, London W8 6SA</p> </div><div class='contentField'><a href="https://www.waynescoffee.co.uk/cafe/waynes-kensington-high-street/">Read more</a></div>
Hummingbird Bakery
<div class='contentField'><p>American cupcake specialist.</p> </div><div class='contentField'><p>133 Portobello Rd, London W11 2DY</p> </div><div class='contentField'><a href="https://hummingbirdbakery.com/pages/our-bakeries">Read more</a></div>
Churchill Arms
<div class='contentField'><p>Dripping in flowers and filled with Churchill memorabilia.</p> </div><div class='contentField'><p>119 Kensington Church St, Kensington, London W8 7LN</p> </div><div class='contentField'><a href="https://www.churchillarmskensington.co.uk/">Read more</a></div>
Chelsea Potter
<div class='contentField'><p>Traditional pub and famous 60s hang out.</p> </div><div class='contentField'><p>119 King's Rd, Chelsea, London SW3 4PL</p> </div><div class='contentField'><a href="https://www.greeneking-pubs.co.uk/pubs/greater-london/chelsea-potter/">Read more</a></div>
Scarsdale Tavern
<div class='contentField'><p>Local gastro pub</p> </div><div class='contentField'><p>23A Edwardes Square, Kensington, London W8 6HE</p> </div><div class='contentField'><a href="https://www.scarsdaletavern.co.uk/">Read more</a></div>
Hansom Cab
<div class='contentField'><p>Local beer house.</p> </div><div class='contentField'><p>84-86 Earls Ct Rd, Kensington, London W8 6EG</p> </div><div class='contentField'><a href="http://thehansomcab.com/">Read more</a></div>
Mahiki
<div class='contentField'><p>Tiki bar</p> </div><div class='contentField'><p>2A Kensington High St, Kensington, London W8 4PT</p> </div><div class='contentField'><a href="http://www.mahikikensington.com/">Read more</a></div>
Barts
<div class='contentField'><p>London's first speakeasy</p> </div><div class='contentField'><p>Chelsea Cloisters, Sloane Ave, Chelsea, London SW3 3DW</p> </div><div class='contentField'><a href="https://barts-london.com/">Read more</a></div>
Notting Hill Arts Club
<div class='contentField'><p>Live music venue</p> </div><div class='contentField'><p>21 Notting Hill Gate, Kensington, London W11 3JQ</p> </div><div class='contentField'><a href="https://www.nottinghillartsclub.com/">Read more</a></div>
Kipferl
<div class='contentField'><p>Austrian coffee house and restaurant</p> </div><div class='contentField'><p>95 Golborne Rd, London W10 5NL</p> </div><div class='contentField'><a href="http://www.kipferl.co.uk/">Read more</a></div>
Fish restaurant and shop
<div class='contentField'><p>Kensington Place, 201 Kensington Church St, London, W8 7LX</p> </div><div class='contentField'><a href="https://www.kensingtonplace-restaurant.co.uk/at/">Read more</a></div>
Peggy Porschen
<div class='contentField'><p>Celebrity cake maker's Chelsea parlour.</p> </div><div class='contentField'><a href="https://www.peggyporschen.com/pages/the-parlour-in-chelsea">Read more</a></div>
Royal Court Theatre
<div class='contentField'><p>This is where Look Back in Anger was premiered kicking off the genre of gritty, kitchen-sink drama. The Royal Court specialises in new work by innovative authors and regularly gets rave reviews.</p> </div><div class='contentField'><a href="/explore-kensington-and-chelsea/royal-court-theatre-0" hreflang="en">Read more</a></div>
Sloane Place Bar
<div class='contentField'><p>Contemporary cocktail bar</p> </div><div class='contentField'><a href="https://www.sloaneplace.com/restaurant-bar/">Read more</a></div>
Sloane Place Restaurant
<div class='contentField'><p>Relaxed all-day eating and drinking.</p> </div><div class='contentField'><a href="https://www.sloaneplace.com/restaurant-bar/">Read more</a></div>
Panella
<div class='contentField'><p>Panella London is the creation of a married couple hailing from Palermo, serving Sicilian cuisine that reflects its rich and&nbsp;varied heritage.</p> </div><div class='contentField'><a href="http://panellalondon.com/">Read more</a></div>