Old Damascus: Jews Quarter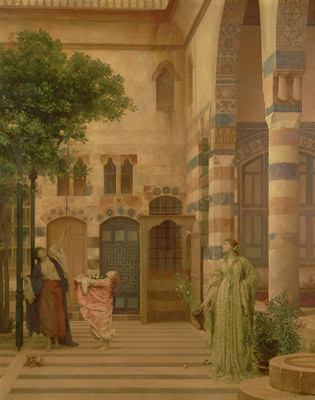 Image Details
Title:
'Old Damascus: Jews Quarter'
Date:
1873/84
Media:
Oil on Canvas
Dimensions:
129.5 x 104.1cm
Location:
Private Collection
Picture credit:
The Bridgeman Art Library
Interpretation:
This painting shows two women and a girl in an impressive courtyard, one woman knocking down lemons with a stick from a tree, while the girl holds out her skirt to catch the fruit. Leighton explored the old houses of Damascus during his visit to Syria in the autumn of 1873. He appears to have painted this work using sketches and photographs on his return to London. The models used are clearly not Middle Eastern. The elaborate dresses of the girl and the woman on the right however, were probably bought in Damascus.
>>
Next Image