The Moorish Garden;
A Dream of Granada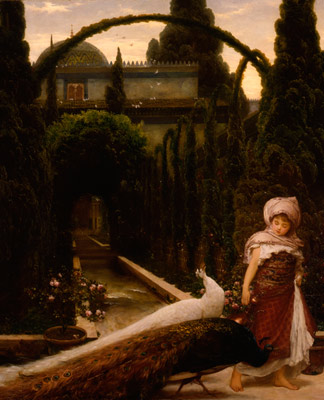 Image Details
Title:
'The Moorish Garden; A Dream of Granada'
Date:
1874
Media:
Oil on Canvas
Dimensions:
101 x 101cm
Location:
Private Collection
Picture credit:
Christies Images Ltd
Interpretation:
This work was inspired by Leighton's travels in southern Spain. He based the composition on a plein-air (open-air) landscape which he painted at the Alhambra in Granada around 1873. The view is of the garden of Generalife, looking towards a watercourse bordered by cypresses and leafy arches. The addition of a female figure in rich Moorish garments and a turban, transformed the scene into a popular 'fancy picture'.
>>
Next Image