Study; at a Reading Desk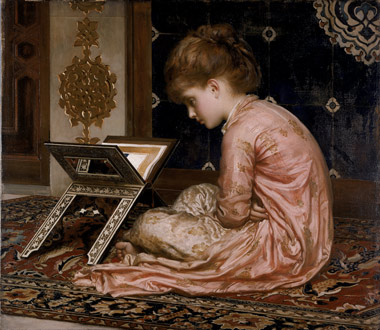 Image Details
Title:
'Study; at a Reading Desk'
Date:
1877
Media:
Oil on Canvas
Dimensions:
63 x 72cm
Location:
Sudley House, Liverpool
Picture credit:
Sudley House, Liverpool
Interpretation:
Leighton has transformed this traditional subject seen often in European art by including a supposed oriental setting and the exotic costume. The real subject of the painting is in Leighton's highlighting the tactile delight of luxurious, and for a British audience, 'exotic' materials. It is likely that the Reading Desk was painted from a Koran stand in Leighton's collection.
>>
Next Image