We offer a variety of opportunities for adults over eighteen years old to take part in sport and physical activity, including health walks, yoga, line dancing, and zumba classes - use the links below.
If you are worried about your health and want to learn how to manage your weight or get fit, one of our special programmes could help. Find out more about our GP referrals.
For more information please contact the Sport Development Team on 0207 938 8182 or email SportandLeisure@rbkc.gov.uk. 
---
Sport and physical activity sessions
Buggy Workout
Venue: Holland Park, meet outside Holland Park Cafe
Time and Day: Every Wednesday, 9am – 10 am
Cost: £3
Description: Includes power walking to raise your heart rate and burn fat and specific exercises to strengthen and tone particular muscle groups. Our Buggy Fit instructor is an expert in assessing how hard to work each mum in order to gain maximum results in a friendly environment. All mothers must be at least six weeks post natal.
Contact: For more information call Beth Towle on 0207 938 8182 or email Bethany.towle@rbkc.gov.uk 
---
Women's Football (16+)
Venue: Avondale Park, W11 4EW – Entrance on Mary's Place Road
Time and Day: Every Wednesday, 7-8pm
Cost: £2
Description: The session is a beginners session and will have elements of fitness, coaching and small sided games.
---
 In the pool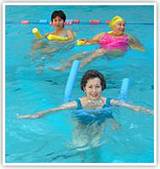 Aquamotion
Venue: Chelsea Sports Centre, Chelsea Manor Street, SW3 5PL
Time and day: Tuesday and Thursday 12 noon to 1pm
Cost: £2.10
Description: A gentle exercise session which takes place in the shallow area of the pool. This fun and sociable session includes simple exercises to increase your mobility, strength and flexibility.
50+ Swimming Lessons
Venue: Kensington Leisure Centre, Silchester Road, W10 6EX
Time and day: 11am-12pm
Cost: Free
Description: Swimming is gentle on joints yet providing a powerful punch when it comes to aerobic exercise, swimming is one of the best ways to work out. So if you want to learn how to swim or just want to perfect you favourite stroke this is the session for you.
---
Active for Life Programme 
Our Active for Life programme works in partnership to cater for people aged 50+, adults with disabilities, women, and residents from ethnic minority backgrounds, in order to involve everyone in sport. For a list of what's available download the Active for Life brochure: