We offer a variety of opportunities for adults over 18 to take part in sport and physical activity, including health walks, yoga, line dancing, and zumba classes - use the links below.
And if you are worried about your health and want to learn how to manage your weight or get fit, one of our special programmes could help. Find out more. 
---
Women Get Active
The Sports Development Team are working with local organisations to encourage more women to be more active. There are a number of classes across the borough which are for women only, they are a great opportunity to exercise in a comfortable environment with likeminded people. For a list of what is available please click below
---
Sport and physical activity sessions
Buggy Walk
Venue: Holland Park, Ilchester Place, W8 6LU
Time and day: Fridays 10.30am to 11.30am
Cost: £5
Description: A class for parents and babies which combines power walking drills and strength training exercise. This class helps with weight management, aerobic fitness and core strength.
Zumba
Venue: Portobello Green Fitness Club, 3 to 5 Thorpe Close, W10 5XL
Time and day: Friday 2pm to 3pm
Cost: £2.10
Description: This class is aimed at all levels and abilities, whether you are new to zumba or more experienced. During the class you will be guided through a series of dance and aerobic movements that will improve fitness, and promote a sense of wellbeing in an enjoyable way. This class is an excellent alternative to traditional fitness programs.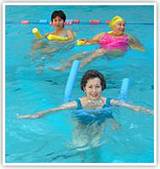 Aquamotion
Venue: Chelsea Sports Centre, Chelsea Manor Street, SW3 5PL
Time and day: Tuesday and Thursday 12 noon to 1pm
Cost: £2.10
Description: A gentle exercise session which takes place in the shallow area of the pool. This fun and sociable session includes simple exercises to increase your mobility, strength and flexibility.
---
Active for Life Programme 
Our Active for Life programme works in partnership to cater for people aged 55+, adults with disabilities, women, and residents from ethnic minority backgrounds, in order to involve everyone in sport. For a list of what's available download the Active for Life brochure:
---
Kensington and Chelsea Community Sport and Physical Activity Network (CSPAN)
The CSPAN network aims to ensure a comprehensive programme of physical activity and sport across the borough involving the public, private and voluntary sectors.
The main aim of the Kensington and Chelsea CSPAN is to increase participation in sport and active recreation, and widen access to opportunities within the Royal Borough of Kensington and Chelsea based on the specific needs of the community.  The CSPAN encourages partnership working, and promotes sharing resources and expertise. 
Read more on the CSPAN page.