About Avondale Park
Avondale Park is a staffed park with the following facilities:
formal gardens
children's play areas
mall wildlife area
games area (5-a-side football, netball and tennis)
public toilet
Address:
Walmer Road W11
Opening times:
7.30am until dusk.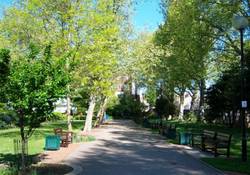 Conservation activities
Avondale Park is a site of importance for nature conservation. The wildlife area had a biodiversity makeover which included several improvements, like:
a new path
planting of a native hedge
restoration of an old bog garden
planting of native woodland bulbs
fruit trees
With an aim to improve biodiversity in the park, a grass-free lawn was created . This contains flowers of all different types to add a mix of pollen, scent and colour.
Book to play sports
You can book the games area at Avondale Park to play football, netball or tennis.
To book or for more information call 020 7602 2226 or email sportsbooking@rbkc.gov.uk
History of Avondale Park
Avondale Park was created in 1892 when the area that had been a huge fetid pool known as "the ocean" was finally built on. This former area of slurry was part of the notorious Piggeries. It was also the location of tile kilns and brickfields.
The site was bought from the Adams family in 1889. After the seven foot excavations were filled in, there was an opening ceremony on 2 June 1892. The name, Avondale Park, is in memory of the recently deceased Duke of Clarence and Avondale.