About Cremorne Gardens
Cremorne Gardens is on the northern bank of the Thames.  Not far from King's Road, it has spectacular views of the river.
Cremorne Gardens has public toilet facilities.
Address
Lots Road SW10
Opening times
7.30am until dusk

Cremorne Gardens management plan
Cremorne Gardens has a 10 year management plan which you can read here:
Cremorne Gardens Management Plan
History of Cremorne Gardens
In 1825, Mr. Granville Penn, a cousin of Lady Cremorne, inherited the house and grounds. He improved the estate before selling it.
In 1831, Charles Random De Berenger, Baron De Beaufain, bought the house. He turned it first into a sports club and then opened Cremorne Pleasure Gardens. Entertainment included concerts, fireworks, balloon ascents and galas.
They opened in 1845 and closed down in 1877. After renaming the house after himself, Thomas Dawson, Lord Cremorne had the house enlarged. After closing, the gardens were sold and built over.
20th Century
In the early part of the 20th Century, Lord Cremorne's mansion, known as Chelsea Farm was popular. It was often visited by George III, Queen Charlotte, and the Prince of Wales .
There was a  wrought-iron gateway which stood at the King's Road end of the original gardens. This belonged to Lord Cremorne's house. It was incorporated when the riverside park was landscaped in 1981-2.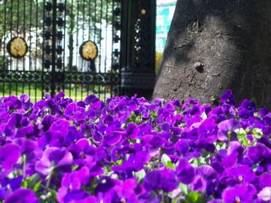 Map