Emslie Horniman's Pleasance
Please note no barbeques are permitted in the park.
About Emslie Horniman's Pleasance
Emslie Horniman's Pleasance is a staffed park with the following facilities:
children's play area
all-weather floodlit sports area
changing rooms
several works of contemporary art
public toilet facilities
The formal Voysey Garden has been completely restored to its original design. There is a kiosk during the summer months.
Address
Bosworth Road W10
Opening times
7.30am until dusk 
Emslie Horniman Pleasance Playground Consultation 2021
Over the last few months, the Royal Borough of Kensington and Chelsea has been consulting with the local community about potential improvements to two playgrounds within Emslie Horniman. This has been collected through an initial ideas and feedback period and a structured formal consultation (survey) with the wider community.
Read the summary of the consultation results.
The full results of the consultation can be found in the report below: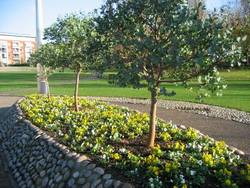 Book to play sports
You can book the sports area at Emslie Horniman's Pleasance.
To book or for more information call 020 7602 2226 or email sportsbooking@rbkc.gov.uk
History of Emslie Horniman's Pleasance
There was a meeting of the London County Council on the 14th March 1911. In this meeting, a letter was read out containing an offer from politician and ex-council member Emslie J. Horniman:
''Recently I have been able to secure nearly one acre of land, which I consider suitable to lay out as a public garden, with sand-pit, etc., and, having now completed the purchase, I have much pleasure in offering the same to your council, and am ready to make over the freehold, the only condition being that the land be dedicated in perpetuity to the people of London as a recreation-ground. I propose to clear the land and lay out same at my own expense."
Emslie Horniman lived in Chelsea but was inspired to create the park which today bears his name in North Kensington by Sister Ruth. She was a local nun who worked with the poor of Kensal Town. Emslie Horniman had an interest in the arts. She gave the commission to design the park to the architect Charles Voysey. This is why it is called 'Voysey Garden'.
Nowadays the park hosts 20,000 people over the August bank holiday. It is the official launch pad of the Notting Hill Carnival.
Map
Contact us
View the contact details for parks.
Last updated: 4 January 2022