About Kensington Memorial Park
Kensington Memorial Park is a staffed park with the following facilities:
pleasant formal areas
a children's playground
tennis, football, junior cricket and One O'clock club (managed by Family and Children's Services)
public toilets
A kiosk is open during the summer months.
Address
St Mark's Road, W10
Opening times
7.30am until dusk
Kensington Memorial Park Water Play Area
The waterplay will open in two-hour sessions to allow for additional cleaning and system checks throughout the day. 
The session times will be as follows except Tuesdays when we open later at 12pm:
Session 1  10:30 to 12:30 
Session 2  13.00 to 15:00 
Session 3  15:30 to 17:30 
On Tuesday the sessions will be:
Session 1 12:00 to 13:30
Session 2 14:00 to 15:30
Session 3 16:00 to 17:30
The water play will close between sessions for extra cleaning and maintenance. 
Book to play sports
You can book to play sports at Kensington Memorial Park.
To book or for more information call 020 7602 2226 or email sportsbooking@rbkc.gov.uk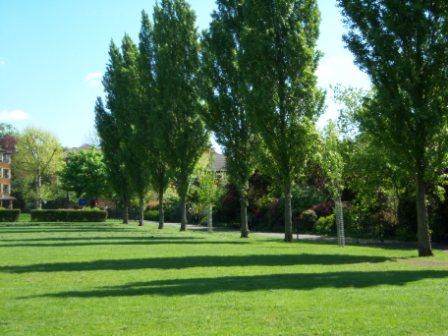 Kensington Memorial Park Consultation 2021
Have your say on improvements to Kensington Memorial Park (St Mark's Park).  
This is your chance to give us your thoughts on:
The future of park buildings
New park proposals
Improvements to the playground
We estimate the consultation survey will take between 10-15 minutes to complete. 
Alternatively, join us for consultation drop-in sessions in the park on:
Wednesday 21 July at 3-5pm,
Thursday 29 July 3-5pm,
Saturday 31 July 1-3pm
Tuesday 3 August at 10am - midday
Consultation Plan
By clicking below you can find further information on how and when we plan to speak to people about park improvements. 
Kensington Memorial Park Improvements timeline

The Kensington Memorial Park improvements timeline below gives further information on how and when we plan to speak to people about park improvements. 

Phase 1 - Listening

April-June 2021

Recognise and contact internal and external stakeholders for initial input
Initial ideas through focus group sessions with local community groups
Review initial ideas and feedback and then collate and present themes back to stakeholders

Phase 2 - Exploring

June-September 2021

Broader formal consultation through surveys, meetings and events using initial ideas as a foundation
Work with community and participation groups with peer to peer consultation
Review findings from broader formal consultation and present back to the community

Phase 3 - Formulating

September onwards

Hold participatory exercises (co-led design approach)
Plan improvements using a phased approach
Review of consultation process
Updates through meetings and updates on social media/website
Begin drafting scope of works
Begin tendering for larger aspects of the project

Phase 4 - Sharing

November onwards

Present contractor designs to community groups and focus groups for feedback
Finalise designs and organise plan of works with awarded contractors
Communicate timelines with stakeholders
Updates through meetings and updates on social media/website
Progress so far
Prior to this consultation we held a series of discussion groups in spring 2021, where members of the Parks Team met with local community groups to discuss issues and proposals for the park. Key findings from these discussions can be found below.
Phase 1 – Summary of Focus Group Sessions and Feedback

Comments and ideas have been summarised into different categories (a full list of feedback can be requested at kmpimprovements@rbkc.gov.uk)

Buildings/kiosk

Refurbish toilet block for other use
New building to house complementary park facilities
Provide covered seating area
near café/kiosk
Provide improved disabled toilets

Outdoor fitness / sport

Install outdoor gym near St Marks Rd (2020 consultation)
Mix of calisthenics and machine-based equipment (2020 consultation)
Install fitness focussed junior trim trail circuit for young people
Introduce basketball hoops
Don't prioritise funds for tennis court floodlights

Playgrounds

Provide more challenging equipment for juniors
Improve offer for disabled users
Specific comments about playground items including zip wire, swings, climbing equipment
Provide places for parents to sit and shelter from elements

Dogs

Feedback about proposed dog exercise area
Keep dogs away from sports pitch (when in use)
Try new methods to encourage people to pick up after their dog

Planting

Park too small for community garden
Wildflower planting on peripheral verges
Introduce sensory planting

Other

Install water fountain
Install more peripheral footpaths
Improve seating and access for people with mobility issues
Farmer's market not supported in park
If you require a more detailed summary of the findings from the focus groups please email kmpimprovements@rbkc.gov.uk.
Closed Kensington Memorial Park Consultation 2020
We previously asked for your views on improvements to the water play area and proposals for a new outdoor gym at Kensington Memorial Park.
View feedback from this consultation.
Closed Kensington Memorial Park Consultation 2019
We sent out a survey asking about possible improvement to the buildings in the park. We have now analysed the results.
You can read the reports to find out what people said about the park.
History of Kensington Memorial Park
Kensington Memorial Park has been a public park since 1926 when it was opened to the public by Princess Louise, Duchess of Argyll.
The land was bought in 1923 with funds provided by the Kensington War Memorial Committee. They wanted to create a suitable tribute to those who had given their lives in the First World War.

Map