About Kensington Memorial Park
Kensington Memorial Park is a staffed park with the following facilities:
pleasant formal areas
a children's playground
tennis, football, junior cricket and One O'clock club (managed by Family and Children's Services)
public toilets
A kiosk is open during the summer months.
Address
St Mark's Road, W10
Opening times
7.30am until dusk
Kensington Memorial Park Water Play Area
We are in the process of upgrading the water play facility at Kensington Memorial Park. The upgrade works involve new water play equipment, safety surfacing and seating. Unfortunately, the bad weather in May delayed us completing the works, but the revised opening dates are as follows:
Mid-June  – 27 June: Water play area open but equipment limited;

28 – 30 June: Closed so new equipment can be fitted; 
1 July: Fully refurbished facility open for the summer.
Please do come visit when we are open and we hope you enjoy the new facility.
Book to play sports
You can book to play sports at Kensington Memorial Park.
To book or for more information call 020 7602 2226 or email sportsbooking@rbkc.gov.uk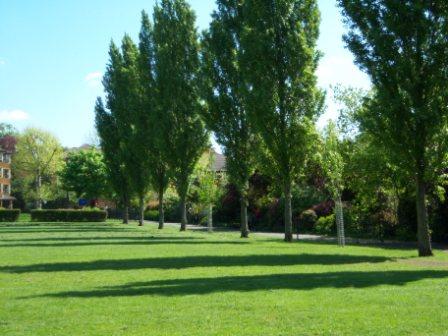 Kensington Memorial Park Consultation 2020
Have your say on improvements to the water play area at Kensington Memorial Park and proposals for a new outdoor gym at Kensington Memorial Park.
Closed Kensington Memorial Park Consultation 2019
We sent out a survey asking about possible improvement to the buildings in the park. We have now analysed the results. analysed.
You can read the reports to find out what people said about the park.
What happens next
We are looking at options for refurbishment of the existing buildings. This will start with a full condition survey of all the buildings. We will also tender for a contractor to carry out design work.
Work will begin on site on 2020.
History of Kensington Memorial Park
Kensington Memorial Park has been a public park since 1926 when it was opened to the public by Princess Louise, Duchess of Argyll.
The land was bought in 1923 with funds provided by the Kensington War Memorial Committee. They wanted to create a suitable tribute to those who had given their lives in the First World War.

Map