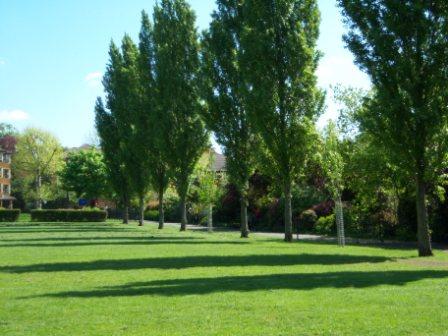 Address: St Mark's Road, W10
The Kensington Memorial Park water play facility is open from Saturday 4 May until Sunday 15 September.
| Operating times (from 4 May) |   |
| --- | --- |
| Monday | 10.30 - 17.30 |
| Tuesday | 12.00 - 17.30 |
| Wednesday | 10.30 - 17.30 |
| Thursday | 10.30 - 17.30 |
| Friday | 10.30 - 17.30 |
| Saturday | 10.30 - 17.30 |
| Sunday | 10.30 - 17.30 |
The park offers many recreational activities including pleasant formal areas, a children's playground, tennis, football, junior cricket and One O'clock club which is managed by Family and Children's Services. A kiosk is open during the summer months. Garden Practicalities: staffed Park. Open 7.30am until dusk. Public toilet facilities. Sports Booking Line: 020 7602 2226
Kensington Memorial Park Consultation
The results from the Council's survey asking for views about improvements to Kensington Memorial Park have been analysed. Thank you to everyone who took time to complete the survey, and who has written to or telephoned the Council.

The survey results indicated a significantly high level of concern (seventy-seven per cent) amongst respondents in relation to the concept of an artificial floodlit pitch replacing the existing grass pitch in the park. Only fourteen per cent agreed with the proposal (results for waves one and two of the consultation were the same). The issue for respondents focused on the loss of the open grassed area on the west side, which has multiple uses, which would result if this artificial pitch were to be installed. 

The Cabinet Member for Environment, Environmental Health and Leisure has therefore decided to concentrate on other much needed improvements to the park.  A revised, smaller scale project with enhancements as described below will be developed. These improvements will focus on:
improving the drainage of the current sports pitch (utilising £150k allocated from S106 funding already secured)
upgrading the current changing rooms and toilets
improving the cafe provision
improving the paths
further enhancements to the sports provision e.g. tennis, cricket, rugby 
upgrading the landscaping and general infrastructure of the park 
Once proposals have been drawn up the Council will involve local residents in discussions. 
You can see a full copy of the consultation results.
History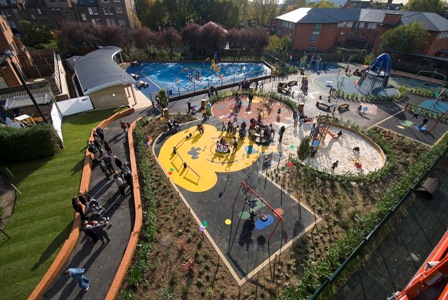 Kensington Memorial Park has been a public park since 1926 when it was opened to the public by Princess Louise, Duchess of Argyll.

The land was bought in 1923 with funds provided by the Kensington War Memorial Committee who wanted to create a suitable tribute to those who had given their lives in the First World War and felt that a new recreation ground would be an ideal memorial.