Drawings by Frederic, Lord Leighton (1830-1896)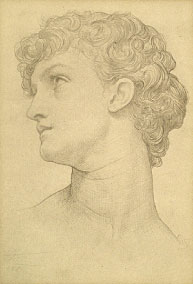 Head of Dorothy Dene, 1881
Pencil on white paper
LHO/D/1039
Leighton House Museum
Search Leighton Drawings
You can search the database of drawings by Frederic, Lord Leighton in public collections worldwide, including the catalogue of the Leighton House Drawings Collection.
The Leighton House Drawings Collection
Frederic, Lord Leighton (1830-1896) is acknowledged as one of the great Victorian draughtsmen. The Leighton Drawings Project aimed to catalogue, conserve, photograph and exhibit the collection of almost 700 drawings by Leighton at Leighton House Museum. It was carried out between 2005 and 2007 with the support of the Heritage Lottery Fund. The fully illustrated catalogue can be accessed through this website, along with a database of all Leighton drawings in other public collections worldwide, created with the support of the Paul Mellon Centre for Studies in British Art. A printed catalogue, which accompanies the exhibition, is available from the Museum. Email museums@rbkc.gov.uk for details of how to order a copy.
With special thanks to: Donato Esposito, Charlotte Gere, Dr Barbara Lester, Shirley Nicholson and Annette Wickham for contributing their research to this website.