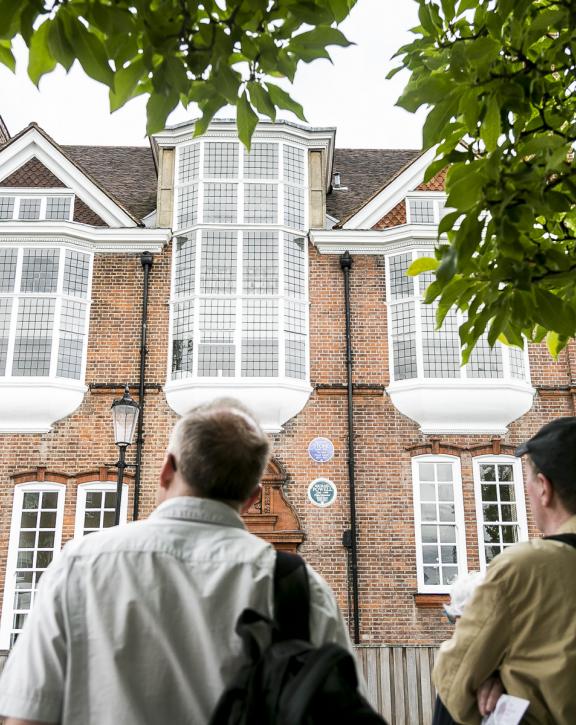 Event Information
Date:
18 August 2022 / Weekly on Sunday and Thursday
Duration:
11am to 12:30pm (1 hour 30 mins)
This summer and as part of the Kensington and Chelsea Festival, do join our free guided walks exploring the unique group of Victorian studio-houses built on Holland Park Road and Melbury Road (Kensington, West London) by the so-called 'Holland Park Circle' of artists, sculptors and architects.
Discover the fascinating story of how this corner of Holland Park became synonymous with a group of leading artists of the late Victorian period, including Val Prinsep, G F Watts, Luke Fildes, Marcus Stone and Leighton himself. Find out why they came to build in this area, the connections between them, what made their houses unique and which leading architects they collaborated with.
The tour  begins and ends outside Leighton House, 12 Holland Park Road, London W14 8LZ.
Please arrive at least 5 minutes before the tour commences. The walk will take approximately an hour and a half.
Please wear weather-appropriate clothing and comfy footwear.
Please note that Leighton House and Sambourne House are both currently closed to the public but we hope you can visit us when we reopen on 15 October 2022.
This is a free event but we do welcome donations and would be thrilled to have your support (please see option to add a donation when booking your ticket).
For updates on all of our  upcoming events sign up to our museums e-newsletter
Please contact museums@rbkc.gov.uk with any enquiries about this event.