Inspired by Gardens & Nature: Lecture Series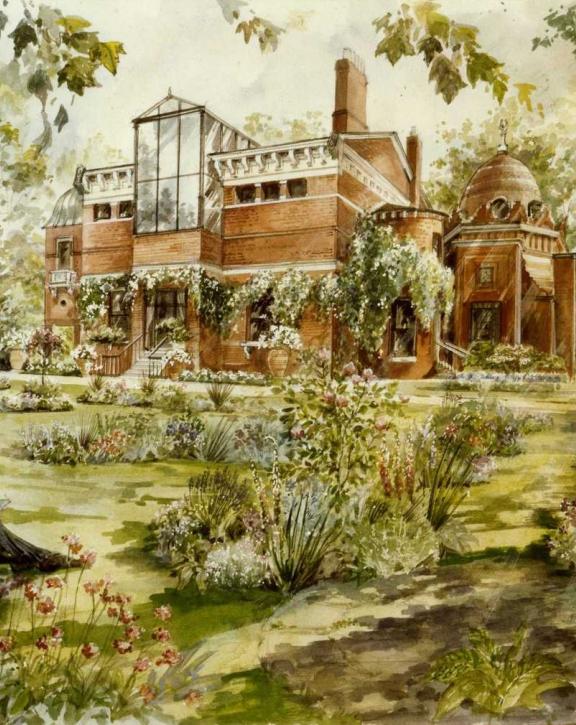 Event Information
Date:
4 November 2021 / Weekly on Thursday
Duration:
6pm to 7pm GMT (1 hour) each lecture
Price:
£10 per person, per lecture
Lecture Series details
As we look forward to the gardens at Leighton House re-opening Spring 2022, join us for a series of talks which bring together three acclaimed figures working in the arts and the art of garden design, linked by the threads of spirituality, a concern for the natural world, creativity and inspiration deeply rooted both literally and metaphorically in the beauty of nature.
Lecture 1, Emma Clark: 
Gardens Underneath Which Rivers Flow: 

An Introduction to the Design and Symbolism of the Islamic Gardens of Paradise
Thursday 4 November, 6pm to 7pm
This illustrated talk introduces the principal elements of the traditional Islamic Garden, mainly the chahar-bagh (4–fold garden) type. It examines how some knowledge of its design principles and spiritual significance may contribute to an understanding of its timeless and universal beauty; and that, in turn, this may impart an appreciation of the culture underlying it.
The talk also looks at the importance of Nature as described in the Qur'an and how the Qur'an itself provides the inspiration for the Islamic Gardens of Paradise. It is hoped that this introduction may open hearts and minds, demonstrating how such gardens may offer great opportunities in 'building bridges' between communities.
Book a ticket for Emma Clark's lecture
About Emma Clark
Emma Clark is a garden designer specialising in Islamic gardens and gardens of other sacred traditions. She has recently designed the garden for the new Cambridge Mosque, UK, completed 2019. She is Senior Tutor on the Masters Programme at The Prince's Foundation School of Traditional Arts in London where she focuses on teaching the universal and timeless principles of sacred and traditional art. Emma has published two books on Islamic gardens: The Art of the Islamic Garden (paperback edition 2010), and a monograph, 'Underneath Which Rivers Flow', The Symbolism of the Islamic Garden, (1996) as well as many articles on Islamic art and architecture, gardens and the garden carpet.
Lecture 2, Rachel Dein:
 

The Ultimate in Pressed Flowers
Thursday 18 November, 6pm to 7pm
An illustrated talk exploring Rachel's inspiration and techniques for her exquisite botanical bas reliefs, showcased in private collections and museums around the world. The artist will discuss career highlights, including her time as a prop maker for theatres and museums. She will also present an overview of the history of nature printing from cave paintings to Henry Bradbury's 'Ferns of Great Britain', providing historical context to her own work.
Book a ticket for Rachel Dein's lecture
About Rachel Dein
Rachel Dein studied Fine Art at Middlesex University, and later worked as a prop maker for the Royal Opera House, Shakespeare's Globe and West End theatres.  For the past 10 years she has been making botanical pieces, and showing her work at the RHS Chelsea Flower Show. Rachel's commissions include Le Manoir aux Quat'Saisons, Huishan Zhang's fashion boutique in Mount Street, P&O Ferries, and the restaurant Hide in Piccadilly. Rachel's botanical bas reliefs are in private collections and museums around the world. In 2019 she was artist in residence at the National Trust's Hidcote Manor Gardens casting the plants throughout the seasons, and she's currently working on a project with the National Trust's Nunnington Hall in Yorkshire.
Lecture 3, Cleve West :
The Artistry and Craftsmanship of Garden Design
Thursday 25  November, 6pm to 7pm
Whether in town or in the country, the aim of celebrated garden designer Cleve West  is to combine structure with sensuality, the classic with the contemporary, invariably with an element of surprise and always with a keen sense of space, artistry and craftmanship.
Cleve will talk about how he got started in garden design and the influences along the way. He'll show a range of private gardens and show gardens describing the inspirations behind them.  He'll touch on the allotment he's been nurturing for the last twenty years and explain how the current biodiversity crisis is making him question some of the interventions we impose on the natural world.
Book a ticket for Cleve West's lecture
About Cleve West
Cleve West is an award-winning landscape garden designer.  His London-based practice has won a total of nine RHS Gold Medals (six at the Chelsea Flower Show) with two winning the coveted Best in Show.  His design for Horatio's Garden (at the Duke of Cornwall's Spinal Treatment Centre, Salisbury) won three Society of Garden Designers Awards in 2015.  Cleve has authored two books - 'Our Plot' (Frances Lincoln 2011) celebrating a decade of allotment-life and 'The Garden of Vegan – How plants can save the animals, the planet and our health' (Pimpernel Press 2020).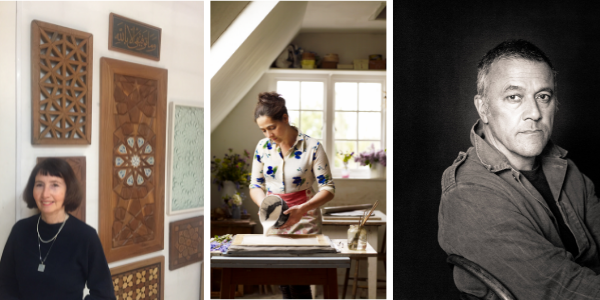 Please contact museums@rbkc.gov.uk with any enquiries about these events.