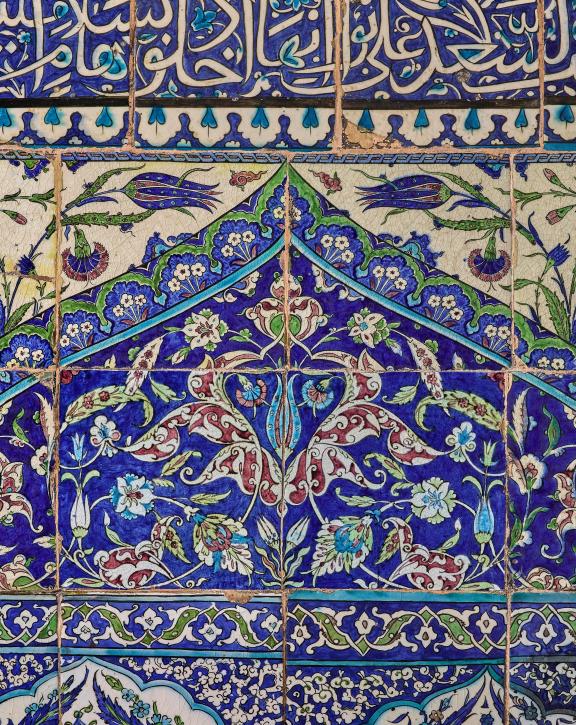 Event Information
Date:
11 October 2021 / Weekly on Monday
Duration:
2pm to 4.30pm (2 hrs 30 mins) every session
Price:
£200 per person (for the full series)
Course Details
Join specialist Dr Melanie Gibson as she takes you on a journey of exploration and celebration, sharing her passion for tiles.
Across four online sessions, you will develop and deepen your knowledge and understanding of early Islamic tiles, the tiles of Iznik and Damascus, tiles of Iran, and tiles created in the nineteenth century by English companies and makers including William de Morgan.
Each week includes an in focus spotlight which looks in detail at tiles in Leighton House, such as the lively and animated storytelling of the fishing panel and the enigmatic grace of the Isfahan tiles. 
Capacity for this course is limited to guarantee  all attendees have full interaction with Dr Gibson. Book your place early to avoid disappointment.



Week 1: Introduction
Monday 11 October 2pm to 4.30pm (BST)
Introduction

A survey of tiles in architecture across the world 

Spotlight on early Islamic tiles



Week 2: Tiles of Iznik and Damascus 
Monday 18 October 2pm to 4.30pm  (BST)
Tiles in Istanbul 

Tiles in Damascus 

Spotlight on the fishing panel in the Arab Hall 



Week 3: Tiles of Iran 
Monday 25 October 2pm to 4.30pm  (BST)
Lustre tiles of the Mongol period 

Tiles in Safavid Isfahan 

Spotlight on the Isfahan tile in the Arab Hall 



Week 4: The tiles of the Arab Hall
Monday 1 November 2pm to 4.30pm  (GMT)
'Persian' tiles made by English tile companies in the 19th century

The Arab Hall 

Spotlight on William de Morgan 
About Dr Melanie Gibson
Melanie Gibson is Executive Trustee of the Gingko Library and Editor of the Gingko Art Series. She convenes the Islamic Art module of the Postgraduate Diploma in Asian Art at SOAS and was formerly head of the Art History department at New College of the Humanities, London. Since 2005 she has lectured on the ceramics and glass of the Islamic world for SOAS, the Victoria & Albert Museum, the Courtauld Institute and the Museum of Islamic Art, Qatar. Her research focuses on the ceramics and glass of the Islamic world as well as the reception and use of Islamic pattern in 19th-century British design. Her most recent publication is a chapter on the ceramics of Iran in Bestowing Beauty: Masterpieces from Persian Lands (Yale, 2019).
Please contact museums@rbkc.gov.uk with any enquiries about this event.