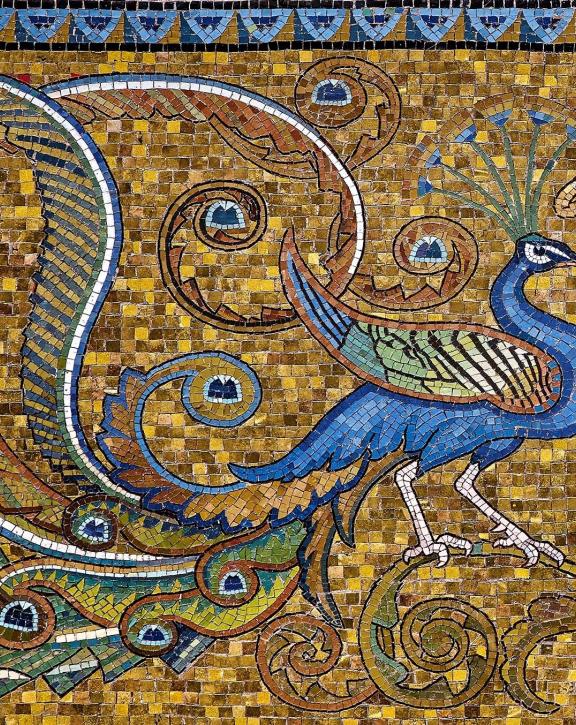 Event Information
Date:
29 January 2022 / Weekly on Saturday
Duration:
4pm to 6pm GMT (2 hours)
Price:
£125 for full course; £35 for individual lessons. 25% off for members of The Friends under 30
In this new online course, Laurelie Rae takes inspiration from the feathery friends to be discovered in the Leighton House collection of textiles, ceramics and mosaics and will explore contemporary illustration techniques, collage and assemblage. Each workshop will begin with a reading from Attar's acclaimed poem 'The Conference of the Birds', written in the twelfth century in north-eastern Iran.
In workshops 1 and  2, Laurelie will focus on peacocks and parrots. Students will learn how to draw these birds  and create a  fantastical garden, exploring Damascene motifs and developing a Damascene colour palette. Laurelie will guide students in using techniques and materials including rubber cement resists, wet on wet, wet on dry, salt and acetone effects.
In workshops 3 and 4, we will look at two De Morgan vases in the Leighton House collection and students will be able to plan, draw, paint, cut and assemble a unique collage using found elements and painted papers. Laurelie will guide students in using watercolour, crayon, pencil, markers and pastel to create three dimensionality and visual interest with layering and juxtaposition. 
Please note that you can book individual sessions that appeal (£35 per person) or enrol on the full course (£125 per person) to acquire a comprehensive understanding and practice of all the techniques presented in the course.
Session 1: Saturday 29 January, 4-6pm (GMT)
Session 2: Saturday 5 February, 4-6pm (GMT)
Session 3: Saturday 12 February, 4-6pm (GMT)
Session 4: Saturday 19 February, 4-6pm (GMT)
Are you under 30? Join The Friends today and get 25% off  practical workshops and courses
About Laurelie Rae
Laurelie Rae is a teaching artist, living and making art in Istanbul since 2014. She graduated with a BFA from Concordia University, Montreal, Canada and completed her master's degree in 2016 at the U.K.'s Prince's Foundation School of Traditional Arts. In 2019 she completed her second master's degree in Visual Art and Communication Design at Sabanci University, where she explored contemporary Art and Art History. Her areas of interest are Islamic ceramics, drawing and illustration.  She is the author of Islamic Art & Architecture: Memories of Seljuk & Ottoman Masterpieces and she is currently working on her second publication, Surface Patterns- Motifs from Islamic Lands.  Laurelie uses her love of traditional ceramic imagery and combines them with contemporary illustration and ceramic works that deal with contemporary issues such as her ongoing project of Female Muslim travellers and West African Islamic Art. 
Please note that some of our online events (i.e. talks, lectures, study days, workshops) may be recorded and published on the museums online channels, including YouTube. We may also make those recordings available to purchase via the museums' online ticketing solution.
Read our full Data Protection policy for online events and recordings
If you have any enquiries about this event, please contact us on museums@rbkc.gov.uk