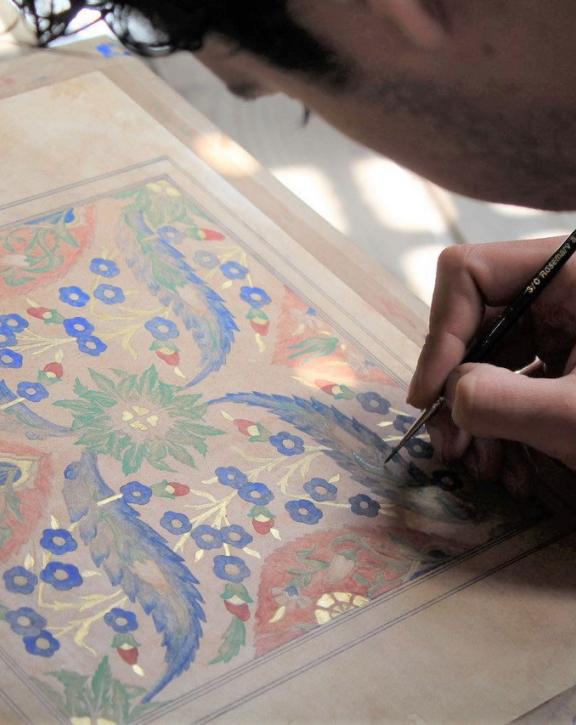 Event Information
Duration:
10am to 4pm BST (6hrs)
Workshop Details
Inspired by the lush floral patterns of Iznik and Damascus ceramics, in this online workshop students will recreate a tile design, exploring traditional painting and shading techniques from the rich world of Islamic art. 
The class size of this workshop is deliberately small to ensure each student receives individual attention from Ayesha Gamiet and to create a warm and welcoming dynamic for all participants.  Book your place early to avoid disappointment.
Workshop Outline:
In the morning attendees will practice pencil and brushwork, trace and transfer our designs onto paper. 
In the afternoon attendees will learn different painting techniques traditionally used in Islamic Art to add colour to their work. 
There will be a 45min lunch break, and a 10min break in the morning and in the afternoon.
Materials you will need:
HB and 2H pencils
Eraser
Ruler
Palette with wells
Round sable paintbrushes, size 0 and 2
Watercolour and or gouache paints to include reds, blues, yellows, greens, black and white
Optional: a set of metallic paints to include gold and/or silver (e.g. Finetec coliro set or similar)
A4 hot-pressed watercolour paper (e.g. Fabriano or Bockingford)
Plain a4 photocopy paper for sketching
A4 tracing paper
You might also want to have a paint pot for clean water, some kitchen towel and a notepad and pen ready.

About Ayesha Gamiet
Ayesha Gamiet studied under Master Illuminator, Ayten Tiryaki in Istanbul over a period of 12 years, and gained her icaza (traditional apprenticeship) in 2018. An experienced teacher, Ayesha holds a PGCE and MEd in Art Education from the University of Cambridge, where she has helped to train new art teachers. She was commissioned by the Royal Library to illuminate manuscript pages gifted to HRH Queen Elizabeth II, and Prince Charles. Ayesha's artwork is in the Royal Collection. She teaches and exhibits nationally and internationally.  You can listen to Ayesha discussing her work and practice  as part of the In Conversation series on our Youtube channel. 

Are you under 30?
Join The Friends for 25% off our artist led workshops  (among many other benefits!). All members joining the Under 30's level will receive an exclusive discount code to use at checkout when booking.

Please contact museums@rbkc.gov.uk with any enquiries about this event.