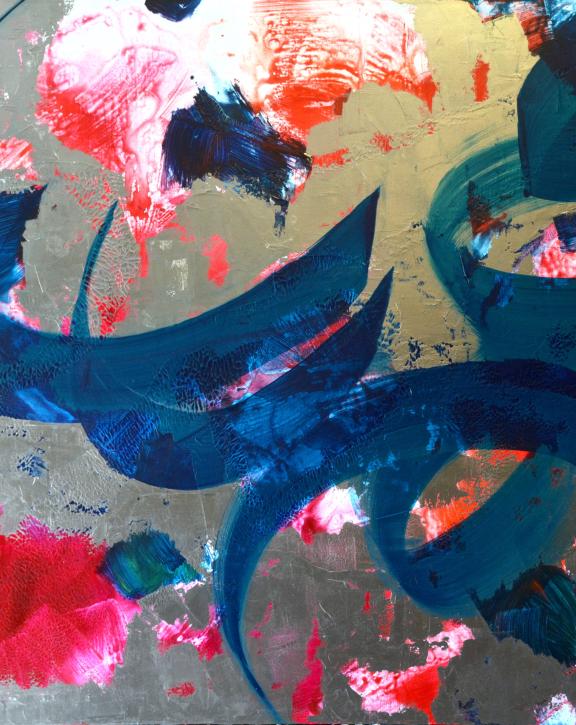 Event Information
Duration:
From 22 April to 1 October 2023
Price:
Included within museum admission ticket
From 22 April and following the commission of the striking mural Oneness in the new helical staircase at Leighton House, the museum presents Shahrzad Ghaffari: Journey to Oneness (22 April – 1 October). The exhibition, with a curated selection of rarely seen works from the last fifteen years of Shahrzad's career, revolves around the themes of love, spirituality and identity, ideas which also appear behind the creation of the mural.
Exhibition highlights
With paintings on loan from Ghaffari's own collection, highlights include a highly personal piece, Lion and Sun (2010), a rare example of figurative painting created in response to protests against the Iranian regime in 2009. Reinterpreting an ancient Persian symbol, Shahrzad depicts a female lion, to represent the strength and courage of women in the face of oppression. Written over the lion's flank and sword are the words 'my body, my choice, my rights', which allude to Shahrzard's views on feminism, particularly in the context of the "Woman, Life, Freedom" movement, which has gained momentum in Iran and beyond in recent year.
Also on display examples of the large scale abstract calligraphic paintings she is best known for, such as Kneeled to be Crowned by Love (2015). Inspired by a poem by Rumi, Shahrzad celebrates the beauty of love through a vibrant colour palette and a playful flow of calligraphic strokes: reading from the right to the left, the word 'kneeled' literally bows downwards, before the characters lift up to be 'crowned by love'.
The exhibition closely examines the central ideas behind Oneness , presenting her preparatory painting on canvas, and a short film on the making of the work. In 2018 Leighton House commissioned Shahrzad Ghaffari to create an artwork for a new helical staircase, located in a recently redeveloped wing. Created as a direct response to the architecture and historic interiors, in particular Leighton's Arab Hall, for Ghaffari Oneness 'is a meeting of East and West and of old and new. It is a totem of union, evolving identity, and ultimately, an expression of love.'
Meet Shahrzad Ghaffari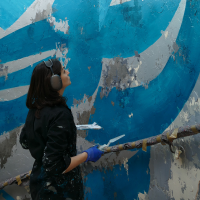 Born in Tehran, Iran, Ghaffari began painting at an early age. Coming from a family of renowned painters such as Sani-ol-Molk Ghaffari (1814-1866) and Kamal-ol-Molk Ghaffari (1848-1940), she studied graphic design for three years at Azad University, Tehran then returned to painting. Her early interest in painting, was matched by a fascination with poetry, in particular the work of Persian poet Jalal ad-Din Muhammad Rumi (1207-1273). The coming together of her two passions inspired many of the paintings in this exhibition.
Poems became my inspiration and allowed me to express feelings and show a deeper self in my paintings.
Book an artist and curator-led talk
Plan your visit
The Verey Exhibition Gallery
22 April March to 1 October 2023
10am to 5:30pm - last entry 4:30pm
Included within museum admission ticket