Published: Friday 20 January 2023
The Mayor's Parlour at Kensington Town Hall was full to the brim this evening as over 80 people waited patiently to hear the results of the 2023 Youth Mayor and Youth Council Election.
Throughout this week, over 700 young people across Kensington and Chelsea took to the polls to vote for their new Youth Mayor and Youth Council cabinet, with 10 young people vying for various positions and for the title of Youth Mayor.
The evening featured speeches from The Mayor of Kensington and Chelsea, Cllr David Lindsay, the Chief Executive of the Council, Maxine Holdsworth, and the Lead Member for Family and Children's Services, Cllr Catherine Faulks.  
The outgoing Youth Mayor, Imaan Abdi, also spoke to pass on her best wishes to the new Youth Mayor and share some of the highlights of her time in office, including the challenges she and her Youth Council faced during the uncertainty of the Covid-19 pandemic.
Then came the moment everyone was waiting for, the announcement of the 2023 Youth Mayor and Youth Council for Kensington and Chelsea. 
The results are as follows:
Cabinet Member for Communities and Services for Young People
Beatrice Kwakyi-Ofori 
Cabinet Member for Education
Marie Keenan
Cabinet Member for Finance
Chantelle Munguli
Cabinet Member for Mental Health and Wellbeing
Yasmin Aldiyar
Deputy Youth Mayor of Kensington and Chelsea
Salwa Ahmed
Youth Mayor of Kensington and Chelsea 
AJ Tumlos
A huge congratulations to all candidates and winners. All those who ran for a cabinet position, along with several other applicants to the process, will join the extended Youth Council, and all will play a vital role in shaping the future of Kensington and Chelsea for young people.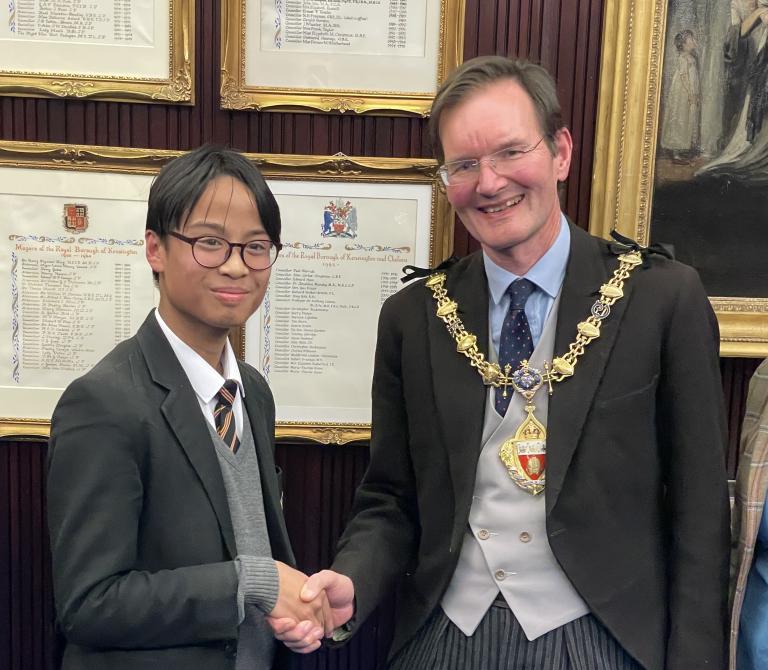 Upon being elected as Youth Mayor, AJ Tumlos said: Thank you so much for voting for me - as I said, vote change vote AJ, and I will bring that change.
The new Youth Council of Kensington and Chelsea for 2023.