Friendly London Faces, by Ivana Babic MFA
Monday 24 February to Sunday 1 March 2020
Monday, Tuesday and Thursday, 9.30am to 8pm
Wednesday, Friday and Saturday, 9.30am to 5pm
Sunday, 1pm to 5pm
This exhibition of portraits by Ivana Babic MFA, is done in Letraset. In a unique application of this technique, she builds the details of the portraits from a compilation of words, phrases, numbers and symbols - making a library setting the perfect exhibition space for creations that are literally made out of words. A magnifying glass is available so that the details from which the portraits are constructed (such as: date of birth, name and other details specific to the person) can be read.
Words and symbols, as constituent elements of the portrait, continuously radiate out personal information and harmoniously influence self-image on many levels. Depicting hidden inner form and not just physical traits, the portrait serves as a soul mirror as well.
Experience shows that, through the power of resonance, well-being and success are attracted into life.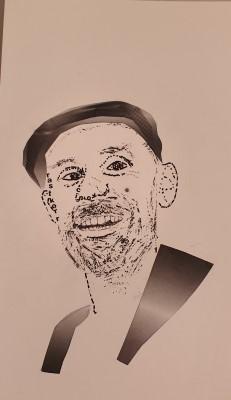 Portrait 1
Last updated: 30 January 2020