Grenfell Early Years Consultation - Design
A new home for Grenfell Early Years
Design
The proposal is to upgrade the existing spaces inside the Ilys Booker Centre and provide additional indoor play space through an extension to the front. Within the existing building, this will mean simplifying the internal layout, providing much-needed additional spaces such as disabled WC, staff room and storage, and upgrading the heating and electrics.
The extension to the front will provide two new playrooms for the children. These will have direct access to the garden and large windows to create light and well-ventilated spaces. Upstairs the children will have access to a roof play-terrace which has been positioned away from the neighbouring flats.
Following resident consultation, we aim to apply for planning permission this summer with a view to starting on site during spring next year. This will allow the project to be finished in September 2021 for the new term.
The works will be coordinated with refurbishment programmes across the wider estate to reduce prolonged disruption to the residents.
Section through proposed design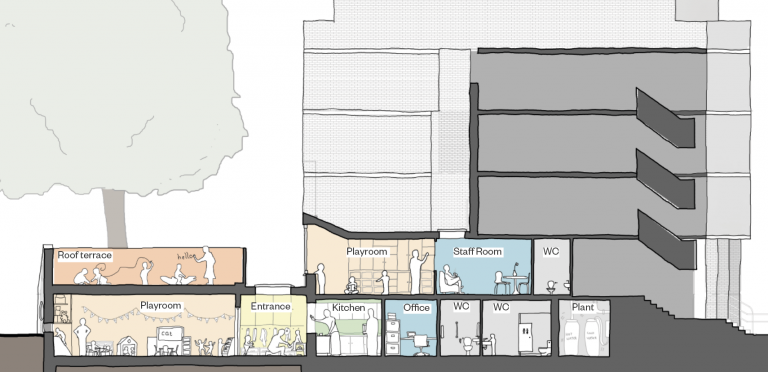 View from balcony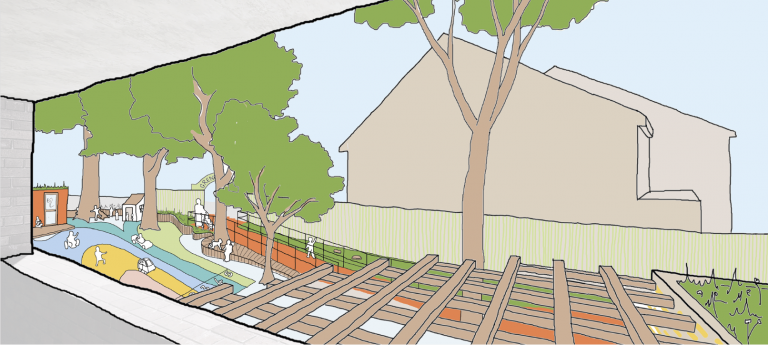 Approach to the nursery