Ilys Booker Drop-in Consultation – Finding a permanent home
Why locate here?
The Ilys Booker Drop-in has been an important member of the Lancaster West community for many years. It provides a local service of support and sanctuary, as well as a safe environment in which parents can raise their young children.
Originally based in the Ilys Booker Center in Lower Clarendon Walk, the drop-in moved to the Tenant's Resource Centre to provide space for Grenfell nursery following the tragedy. They have now moved out of the Tenant's Resource Centre and so need a new space they can call home.  
As a local facility serving the residents of Lancaster West, the drop-in is looking to remain on the estate. Several locations have been explored including The Curve, the Methodist Church, Ilys Booker Garden, and staying on at the Tenant's Resource Centre. The most viable location is that set out in these proposals, between Clarendon Walk and Talbot Grove House.  
The proposal provides the opportunity to help refurbish the estate through environmental improvements, such as upgrading the green area, providing more bike storage, and improving local play facilities.
Other locations we looked at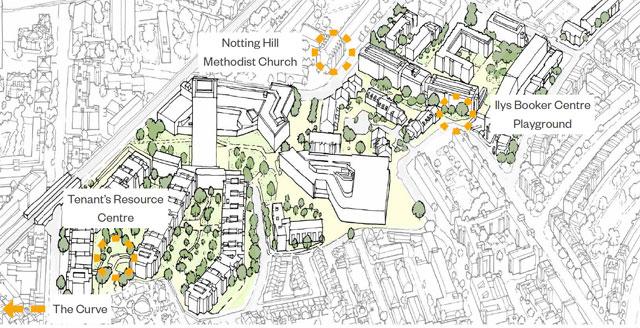 Several different locations and spaces were explored for rehousing the drop-in. The site between Clarendon Walk and Talbot Grove House offers the best opportunity to create a fantastic new home for the service.
The Site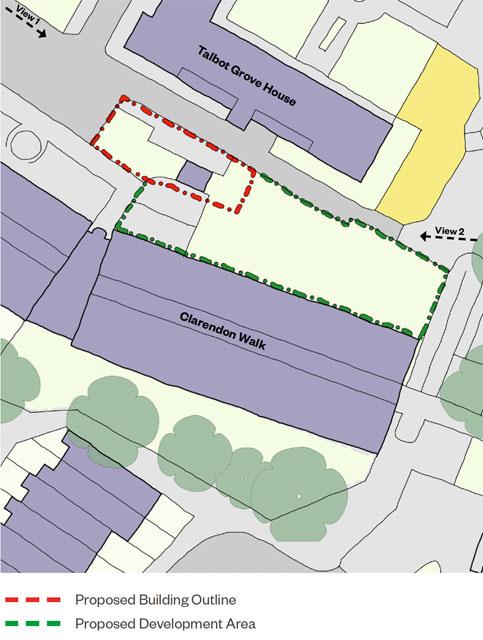 Site Photos